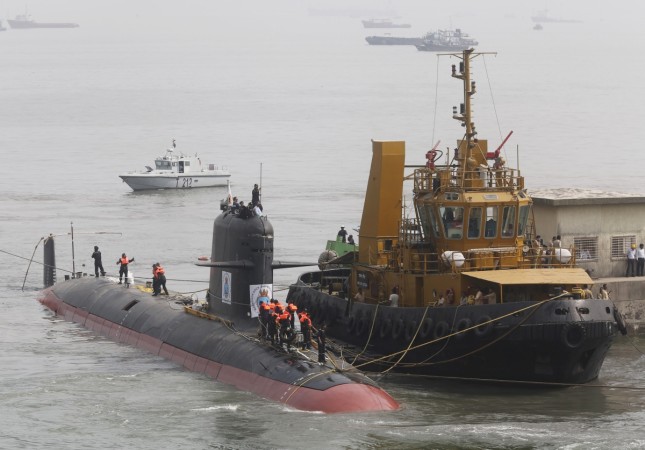 INS Arihant, India's first indigenously-built nuclear submarine, is currently undergoing sea trials that will eventually enable it be commissioned after the completion of all the trials, PTI reported on April 17.
"The submarine will be commissioned after completing all the sea-trials," Vice-Admiral HCS Bisht, Flag Officer-Commanding-in-Chief, Eastern Naval Command, was quoted as saying by PTI. According to the report, this new undersea vessel had completed "several deep sea diving drills."
The INS Arihant is the lead ship of India's newest class (Arihant class) of nuclear ballistic missile submarines, which was built under the Advanced Technology Vessel Project. It weighs 6,000 tonnes and carries the ability to launch underwater nuclear missiles.
India visions its Navy to become a true blue-water navy given the rise in China's maritime activities in South China Sea. Defence analysts had been worried over the depleting strength of submarines, and the slow pace of submarine constructions and naval ship inductions in India.
However, Bisht dismissed the notion that the Indian Navy was not keeping up with its adversaries and assured that it had the "adequate strength of ships, submarines and manpower." He revealed that there are at least 45 ships that are under construction in various shipyards of the country.
According to recent reports, successful tests of the K-4 SLBM (submarine-launched ballistic missile) were conducted on board the INS Arihant. These tests will augment India's nuclear deterrent capability, developing its nuclear triad. INS Arihant can reportedly carry 12 short range K-15 missiles or four K-4 ballistic missiles.
Work has already begun on two more Arihant class of submarines for the Indian Navy.
India is also building the INS Kalvari, a diesel-electric attack submarine that is based on the Scorpene-class submarines. There will be six models of this class, with four of them being conventional and two with advanced air-independent propulsion (AIP) system that lets the vessels stay underwater for longer duration. The first submarine of this class, INS Kalvari, is currently undergoing sea trials.