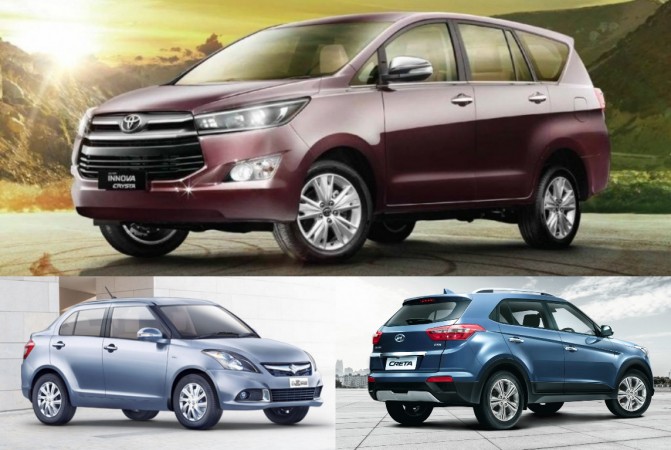 Maruti Suzuki is India's largest car-maker by volume and its Alto is the best-selling car for over a decade. Other Maruti Suzuki models such as Swift and WagonR are also top selling models in the country. However, when it comes to the value, it's Toyota leading the table with MPV Innova Crysta.
The value of a vehicle is calculated by the top-end variant's price multiplied by volumes. According to a list compiled by ET Auto, Toyota's MPV leads the table with the value of Rs. 1,449 crore. Maruti Suzuki Swift Dzire, which is the second best-selling car in terms of volume, is also second most valuable vehicle with Rs. 1,103 crore. Hyundai Creta SUV sealed the third spot with the value of Rs. 952 crore.
Fourth and fifth places have been secured by Hyundai models. The Korean car-maker's best-seller Grand i10 is the fourth most valued model worth Rs. 824 crore, followed by Elite i20 with Rs. 787 crore.
Maruti Suzuki models again rule from sixth to ninth places. The Swift hatchback has the value of Rs. 582 crore (6th), WagonR has the value of Rs. 557 crore (7th) and Baleno premium hatchback's value has been calculated as Rs. 530 crore.
The best-selling vehicle of the country, the Alto, managed to seal only ninth place with the value of Rs. 510 crore. The last vehicle in the top-10 list is the Renault Kwid with the value of Rs. 338 crore.
It is notable that despite being new comers, Hyundai Creta, Maruti Suzuki Baleno and Renault Kwid entered the list. The top-end variants of the new models are in great demand and it shows the industry's shift to value over volume.