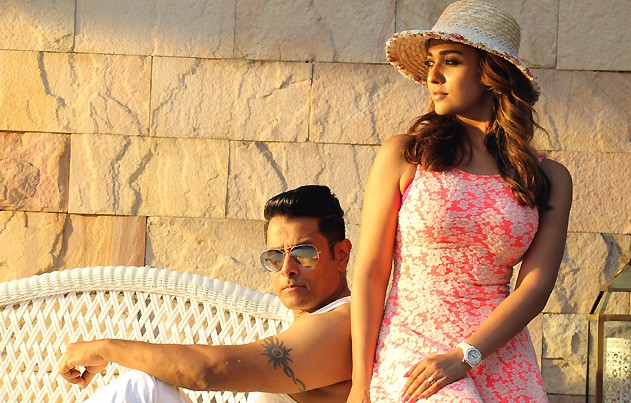 Actor Vikram and Nayanthara's film "Inkokkadu," which hit the screens around the world on Sept. 8, has received mixed verdict and average ratings from the Telugu critics.
Malaysian police are struggling to catch dreaded criminal, Love (Vikram). They bring in ex-RAW agent Akhil (Vikram) on board to nab him. Akhil has dealt with the case of Love and he has a personal vendetta against the latter. How he manages to catch the villain forms the rest of the story.
"Inkokkadu," which is the dubbed version of Tamil movie "Iru Mugan," deals with a routine story. Anand Shankar has tried to impress the viewers with his interesting screenplay, but has failed to do so. His narration is entertaining and engaging in the first half and the scene before the interval raises lot of curiosity about its story. The director, however, has messed it up in the second half of the film, say the critics.
Vikram has played dual roles in "Inkokkadu" and he has done justice to both. His performance is the highlight of the film. Nayanthara and Nithya Menen have also done a good job and their glamour and chemistry with Vikram are among the highlights of the film. Nassar, Thambi Ramaiah, Bala and others have also done justice to their roles, say the critics.
Harris Jayaraj's music and RD Rajasekhar's camera work, brilliant action scenes and makeup works are attractions on the technical front of "Inkokkadu," add the critics. We bring you some critics' verdict and ratings for the film. Continue to see them in "Inkokkadu" review roundup:
Inkokkadu is technically sure-footed and helped by crackling performances by Vikram. Nayantara does her part with grace and oomph. Nithya makes a mark in her limited role. Thambi Ramaiah tries to bring in some humour into the film. Riythvika appears in a cameo and her part as a troubled girl in Malaysia is reminiscent of Kabali. In the end, the film leaves us underwhelmed.
Inkokkadu is supposed to be an interesting action thriller, but the director was unable to generate any curiosity. This film is solely for Vikram fans, but even he has not been able to salvage the predictable storyline. Pick this action film only if you don't find anything else to watch.
Inkokkadu is a unique action entertainer which has its moments. Engaging first half and Vikram's performances are a huge plus. This is a kind of film which will be liked only by action film lovers and general audience who love popcorn entertainers, might get disappointed. Finally, if you manage to ignore the lacklustre second half and predictable storyline, you can give this film a shot for Vikram who is awesome as LOVE.
The first half of the film shows some promise with the introduction of characters and the Speed drug making an impact. Interval scene is also well done and raises hopes on the second half. Director made a mess of it in the second hour with many unwanted scenes. Even the much awaited climax duel of the Vikram's didn't click due to bad execution. One could not help but only feel sorry for Vikram as he has been investing a lot of hard work into bad films.