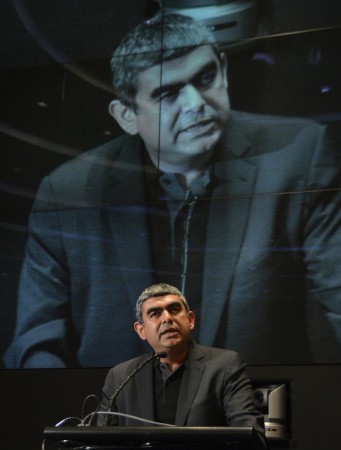 Top executives at India's second largest IT firm, Infosys, saw their compensation packages rise by a whopping 170-210% in FY15, however, CEO Vishal Sikka is not the highest paid in the company.
The compensation details submitted by Infosys to US Securities and Exchange Commission showed that Chief Operating Officer UB Pravin Rao was the highest paid top executive in the company during the fiscal year 2014-15, The Financial Express reported.
Rao, who took over as COO of Infosys in June 2014, saw a 204% increase in his total compensation standing at $9,70,646 or ₹5.82 crore compared to the $3,18,954 he received in FY14.
Since joining Infosys in 1986, Rao has held a number of senior leadership roles in the company.
Same is the case with Rajiv Bansal, the chief financial officer, whose total compensation rose by 174% in FY15. Bansal was the second highest paid executive in the company.
Srikantan Moorthy, who was the head of HR department until recently, also received a 211% increase in his compensation to $6,42,628 in FY15 compared to $2,06,958 in FY15.
However, the compensation of CEO Sikka stood at $7,16,539 or ₹4.3 crore, less than that of COO's, as he did not receive any bonus or incentive in the financial year ending March 2015.
Sikka, the first non-founder head of the company, took charge as the chief executive of the company from 1 August 2014.
Rise in compensation for top executives comes in the wake of many senior-level executives leaving the company in the past two fiscal years. However, the attrition rate came under check after Sikka got appointed as CEO.
The Bengaluru-based company recently announced an average salary hike of 6.5% as it faces the highest attrition rate among domestic IT firms.
While announcing its results for March quarter, CEO Sikka said the company aims at boosting revenues to $20 billion from current $8.7 billion over the next five years.