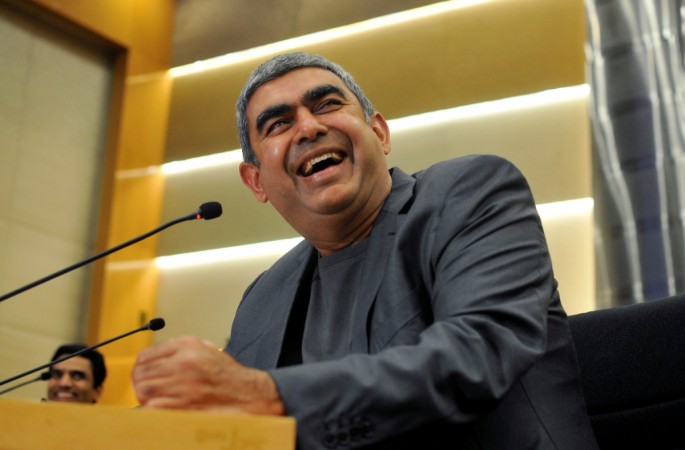 Infosys has been undergoing a strategy revamp since Vishal Sikka stepped in as the CEO and MD in 2014. Sikka announced the company's plan to decentralise its business while sounding optimistic about the company's performance for the second quarter at the analyst meet on Friday.
The 49-year-old said that the company will be split into smaller business units with independent profit and loss (PNL) targets which would enable scalability, freedom of operation and accountability. The units will be led by a new team of management leaders.
"It gives us scalability, it gives us isolation and accountability of individuals," said Sikka. He did not specify the number of business units or names of leaders.
In line with the company's Zero Distance strategy, smaller business units will allow Sikka and the heads of businesses to attend specific needs of a smaller client set.
"Infosys has just three members of its management team ultimately responsible for all the verticals among themselves (all the three are presidents) vs eight vertical heads at TCS," JP Morgan analyst Viju George was quoted by the Economic Times.
The units are expected to have revenue target ranging between $500 million and $700 million each, while scaling down the number of clients under them. Sikka also added that the company will give clearer revenue guidance at the end of the second quarter.
The IT services major's rival Tata Consultancy Services (TCS) had made a similar move when the company's current CEO N Chandrasekharan took over in 2009.
"We have over 20 people managing their own profit and loss accounts, each with complete ownership. We wanted to break down the problem of growth to a manageable size, so that there are different people running after the targets," Chandrasekharan had said at the time.
TCS has 23 autonomous heads managing smaller business units with revenues not exceeding $250 million. The units were given flexibility in operations to touch the target of $1 billion revenues. TCS revenues were up 32 per cent over Infosys at $6.34 billion for the 2009-10 financial year.
TCS sales came at Rs. 29.3 crore, while Infosys recorded Rs. 16.78 crore for the quarter ended June 30, 2016.