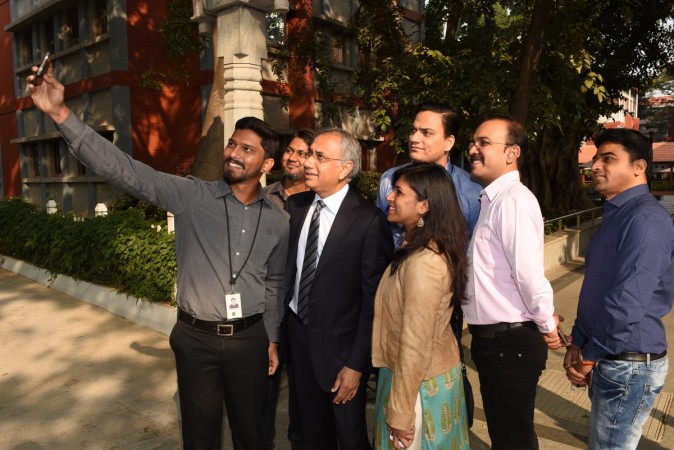 Infosys grew faster than its larger rival Tata Consultancy Services Ltd (TCS) in the December quarter (Q3), even as it announced Rs 8,260 crore share buyback programme.
The strong show is expected to buoy the market and the sectoral indices that have been trading laterally over the week could move into a consolidation phase. Nifty IT index that opened the week at 14,238 points closed 69 points or 0.48 per cent up at 14,307 points after hitting a high of 14,495 and a low of 14,134 points.
During the period, the benchmark Nifty50 traded laterally, closing the week on 10,794 after opening it on 10,805 points. During the week, Nifty50 hit a high of 10,870 points on January 9 and slumped to 10,733 on January 8.
The markets could benefit from the 8.5-9 per cent increase in Infosys revenue outlook in constant currency terms from the earlier estimate of 6-8 per cent. However, the IT major's profitability took a hit along with that of TCS, which also showed a contraction in operating margin, reports say. This could temper the market a little bit preventing any monstrous rally.
The share buyback proposed is for up to Rs 800 apiece, which will cost the company around Rs 8,260 crore. The company returned Rs 13,000 crore through its first share buyback that it completed in December 2017.
Infosys also has declared a special dividend of Rs 4 per equity share. January 25 is the record date for the special dividend and January 28 the payment date.
Infosys's Q3 revenue rose 2.7 per cent In constant currency terms, over the preceding three months.
The commentary blames currency fluctuations for stealing the sheen off the company's growth as dollar revenue rose at a slower pace of 2.2 per cent to $2.98 billion in the quarter ended December 31.
"With increased client relevance, we saw double-digit (10.1 per cent) year-on-year growth in Q3 on a constant currency basis," Mint quoted Salil Parekh, managing director, and chief executive officer of Infosys, as saying. "We also had another strong quarter in our digital business with 33.1% growth and large deals at $1.57 billion which gives us confidence entering 2019," he said.
TCS reported a 1.8 per cent sequential rise in revenue in constant currency terms and 0.67 per cent increase in dollar terms in a result note on Thursday.
However, year-on-year, TCS's 12.1 per cent revenue growth in constant currency terms and 9.7 per cent dollar revenue growth is higher than Infosys's 10.1 per cent in constant currency and 8.4 per cent in dollar revenue growth, the report says.
Infosys, meanwhile, has dropped plans to sell Panaya and two other subsidiaries Skava and Kallidus. Infosys also said its board reappointed Kiran Mazumdar-Shaw as the lead independent director for a second term.