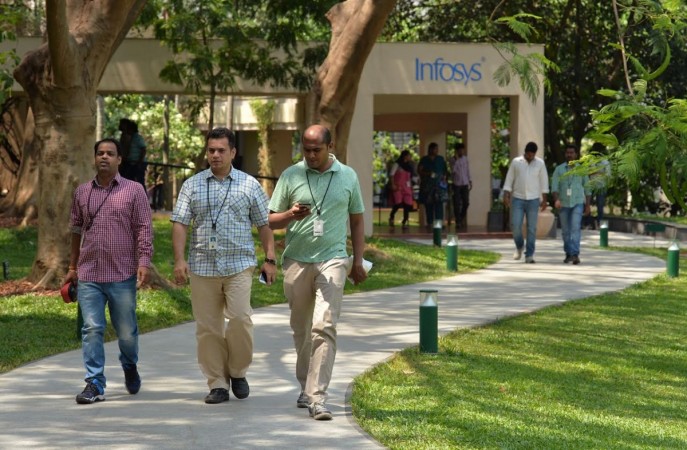 Infosys announced on Tuesday, October 24, that its profit in the second quarter of FY2018 — its first since Nandan Nilekani took back the reins following the unceremonious ouster of Vishal Sikka — rose to Rs 3,726 crore, as opposed to Rs 3,483 crore in the previous quarter.
This was a quarter-on-quarter growth of approximately 7 percent. It came along with a q-o-q revenue growth of 2.9 percent, from Rs 17,078 crore to Rs 17,567 crore.
India's second-largest software firm also said that its annual revenue guidance was being reduced from 5.5-6.5 percent from the healthy 6.5-8.5 percent earlier.
The company, meanwhile, has declared an interim dividend of Rs 13 per share.
The Infosys scrip, meanwhile, ended the day at the Sensex at 926.75, down approximately 1.37 percent.
This drop could have been in anticipation to the drop in Infosys' quarterly profits and possible cut in annual revenue guidance, only the latter of which materialised.
"We continue to focus on executing on the theme of software enabled services and on accelerating growth of our new services portfolio," said interim CEO and Managing Director UB Pravin Rao.
Referencing Sikka's exit and the subsequent turmoil, he said: "During the quarter, we responded quickly to the management and Board changes through proactive communication with all stakeholders minimising any negative impact to the business and allowing us to deliver growth across all our large industry units."