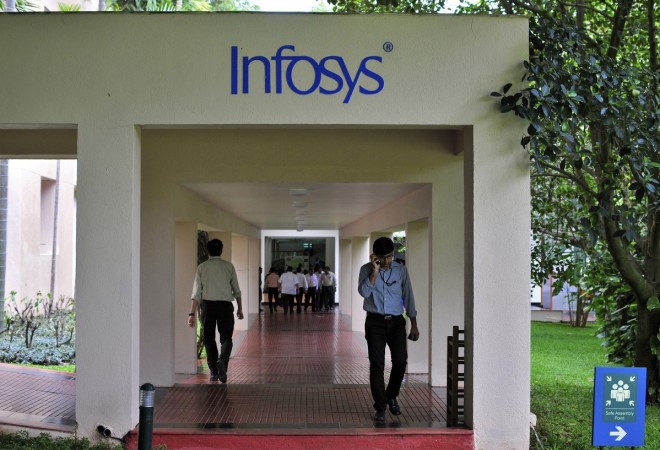 Infosys led the fall on Indian stock markets on Friday after it declared its June quarter results, with the share plunging almost 10 percent on the Bombay Stock Exchange at around 10.15 a.m. The fall was triggered by the Bengaluru-based company lowering its FY2017 revenue guidance to 10.5-12 percent from 11.5-13.5 percent earlier.
The Infosys stock fell to Rs. 1,060, a loss of 9.78 percent from its Thursday close of Rs. 1,175.85 and was still trading close to the day's low at around 10.22 a.m.
The company's June 2016 quarter consolidated net profit was $511 million on revenues of $2,501 million, translating into revenue growth of 10.9 percent on a year-on-year (YoY) basis and 12.1 percent in constant currency terms. The operating margin came at 24.1 percent.
Infosys, India's second-largest IT services exporter, had reported $2,256 million in revenues and $476 million in net profit for the corresponding quarter ended June 2015. On a sequential basis, the net profit declined 4.1 percent from $533 million in the March 2016 quarter.
In rupee terms, net profit rose 13.4 percent YoY to Rs.3,436 crore while revenues grew 16.9 percent to Rs. 16,782 crore.
"We had unanticipated headwinds in discretionary spending in consulting services and package implementations as well as slower project ramp-ups in large deals that we had won in earlier quarters, resulting in a lower than expected growth in Q1," Vishal Sikka, CEO of Infosys said in a statement.
The company added 34 clients during the first quarter (Q1 FY2017) of which three were in the $100 million+ category and 16 in the the $1 million+ category.
#InfosysQ1FY17 USD: Revenues for Q1FY17 at $2,501 million; QoQ growth was 2.2% in reported terms and 1.7% in constant currency terms

— Infosys (@Infosys) July 15, 2016
Other key statistics:
Liquid assets including cash and cash equivalents and investments were $4,918 million as on June 30, 2016 as compared to $5,202 million as on March 31, 2016 and $4,750 million as on June 30, 2015.
The company had 1.97 lakh employees as on June 30, 2016 after a net addition of 3,006 employees. The attrition rate was 21.8 percent on an annualised basis.
The utilisation rate excluding trainees was 80.5 percent, marginally up from 80.1 percent at the end of March 2016.
BFSI contributed 32.8 percent to the total revenues, down from 33.8 percent in June 2015 quarter. Manufacturing and hi-tech contributed 22.8 percent, retail & life sciences 24.8 percent.