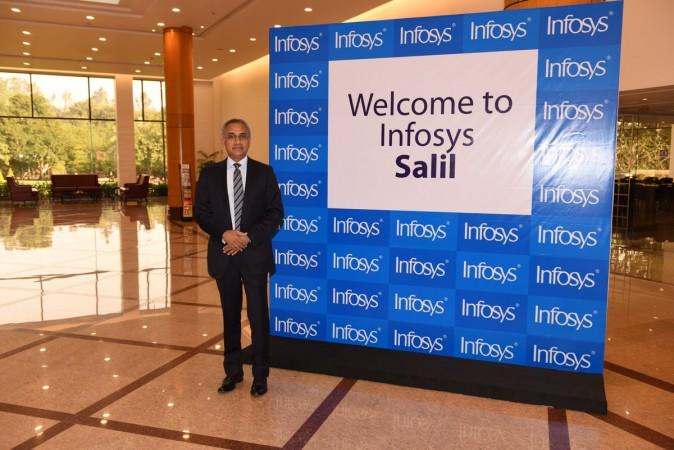 The newly inducted Infosys chief executive officer (CEO), Salil Parekh will earn only a quarter (25 percent) of the salary package given to his predecessor Vishal Sikka. Parekh will be receiving Rs 16.2 crore annually, according to the company postal ballot filed in Bombay Stock Exchange (BSE).
Parekh's salary is way short of what Vishal Sikka drew in fiscal 2017. In the last one year Sikka earned Rs 45.1 crore before he quit in August after a yearlong battle between co-founders and management.
The company has also given the details of severance pay terms; as severance pay, Parekh will be getting half his compensation of the previous 12 months and vesting of outstanding stock options till that period.
This is in line with the fundamental ideas set forth by the co-founders of the IT major. N R Narayana Murthy had flagged the issue of higher salaries the top executives were getting.
Another co-founder, now the non-executive chairman, Nandan Nilekani had also said earlier that he would like see a low profile senior executive to execute a vision of focused delivery for customers.
According to the company's postal ballot, Parekh will get an annual fixed salary of Rs 65 lakh and variable pay of Rs 97.5 lakh that would be compensated based on achieving metrics set by the company. The Bengaluru-based IT exporter has also offered stock options worth Rs 97.5 lakh that would be vested over two years.
With Parekh taking over as the head of India's second largest software exporter, interim CEO Pravin Rao has been redesignated as chief operating officer (COO).
On January 2, Parekh was inducted in a low-key manner with hardly any of the top executives or founders present in company's Bengaluru headquarter.
Speaking to employees in video call, the new CEO said that he is delighted to lead the company and excited to lead the company at a time when technology is changing at a fast and disruptive pace.