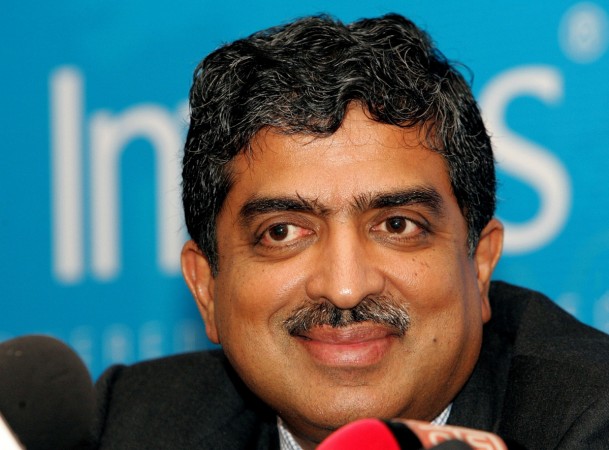 Nandan Nilekani, former chairman of the Unique Identification Authority of India, has earned a reputation as an angel investor in start-ups since 2015. In the first half of 2016 alone, he has invested in 6 different firms belonging to diverse sectors.
Lately, he invested around Rs. 1.6 billion in a real-estate non-banking finance company (NBFC) KKR India (the highest by far this year), reports the Economic Times. With Nilekani's investment, the company's total equity is said to have raised Rs. 16 billion. The NBFC itself has reportedly invested Rs. 300 crore in two projects of Puranik Builders in Pune and Rs. 145 crore in Mantri developers in Bangalore.
Here are the investments made by the Infosys co-founder this year.
Power2SME: Nilekani is said to have invested around Rs. 140 crore, said a Times of India report. Power2SME, which claims to be 'India's first buying club for SMEs', is an intermediary that caters to around 40,000 small and medium enterprises (SMEs) source input materials across verticals like chemicals, paints and polymers at affordable prices from major suppliers that include Steel Association of India Ltd and Indian Oil Corporation Ltd, among others. The company has reported a gross merchandise volume worth Rs. 312 crore so far this year, reported YourStory.
Tracxn: The company did not disclose the amount of funds raised, according to an earlier Mint report. Other than Nilekani, Tracxn had attracted high profile investors such as Infosys CFO Mohandas Pai, Whatsapp's Neeraj Arora and Junglee co-founder Anand Rajaraman. The research platform tracks funded and un-funded start-ups across 100 sectors including enterprise application, technology, consumer and health, among others. The company focuses on markets in India, the US, China and Southeast Asia. The company's customer base reportedly increased 400 percent in 2015.
Sedemac: Nilekani's investment of around Rs. 50 crore in the supplier of automotive products is touted to be in line with his choice of "big, transformative ideas over ecommerce platforms," reported the Economic Times. Founded in 2008, Sedemac Mechatronics Pvt Ltd provides engine control products for retail as well as two-wheelers. Sedemac was the eighth venture backed by Nilekani who believes in disruptive ideas.
RailYatri: The app that uses crowd-sourced data and deep-analytics technology to provide useful insights to travellers about upcoming train journeys received an undisclosed investment from Nilekani, according to a YourStory report. Predicting train delays using the user's mobile GPS and likelihood of a wait-listed ticket's confirmation are some of its features. Kapil Raizada, the company's co-founder, said the app serves nearly two million users as of April 2016.
Drishti: The eye care centres based in Bangalore received an undisclosed investment from Nandan Nilekani this year, as reported by the Economic Times. The clinic is said to offer affordable eye care services even to below the pyramid segments and looks to expand to six more districts in Karnataka.
Nilekani had already made investments in Lets Venture, Mubble, Juggernaut, Systemantics and Fortigo in 2015.