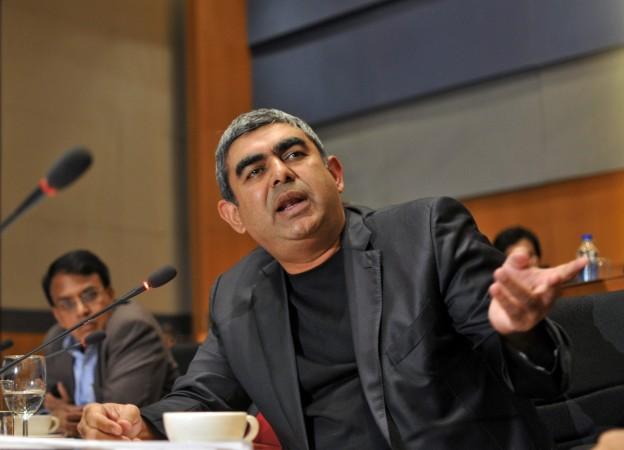 Vishal Sikka, CEO of India's second largest IT firm Infosys, is planning to increase the revenues from China to $1 billion over the next five years, as a part of company's goal of growing its revenues to $20 billion by 2020.
Infosys expects to increase its revenues from the world's second largest economy from the current $120 million to $1 billion over the coming five years, Sikka told CNBC-TV18.
Indian IT companies see a 'massive growth opportunity' in China, he added.
"Infosys is the largest Indian IT employer in China with about 4,000 employees. We are now looking to ramp up our infrastructure and within 18 months hope to have 10,000 employees there," Sikka said.
The head of IT major also accepted the fact that Indian software services firms did not make much progress in the neighbouring country.
Sikka acknowledged that the Indian IT industry, including Infosys, is facing huge challenges to ramp up the growth. However, he reiterated his confidence in achieving the 10-12 per cent growth the company laid out during the announcement of its results for March quarter.
Indian IT companies have been struggling from slowing revenue growth due to subdued client spending and fierce competition in the sector.
The Bengaluru-based Infosys, once the leader of country's $150 billion IT sector, has been struggling to sustain its market share due to lack of innovation and high employee attrition rate.
Infosys aims to improve employee productivity by 50 per cent. The software major estimates employee productivity to increase to $80,000 by 2020, compared to the current $52,500.
It is also eyeing Indian startups for investment as part of its strategy to provide technology solutions to companies that are experiencing "new-age" problems.
Sikka said "the company had not yet followed up with its promised policy of becoming more aggressive about acquisitions but said it was looking at niche acquisitions such as in startups".
"We will make a big bang acquisition only if it looks compelling," said Sikka.