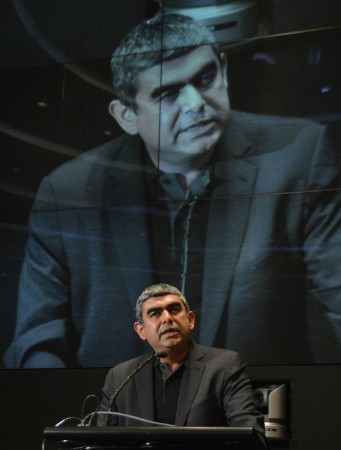 Infosys has appointed Vishal Sikka, one of the most respected technology professionals as its first non-founder CEO – an event that is thought to embrace radical changes in the company in the face of severe challenges.
The 47-year-old, was a former member of German software giant SAP's executive board and his appointment by the Bangalore-based company signals that it wants to improve its technological foothold in the global market.
"The move signifies Infosys's commitment to something new and a heavier focus on higher margin products and services. It also shows that the company is not afraid to try something different," Ray Wang, principal analyst and founder of Constellation Research said, Economic Times reports.
This comes as the company is preparing to bid goodbye to Chairman NR Narayana Murthy, 67, from the company on Saturday. Now after three years of mediocre performance in which the company suffered revenue growth, all eyes will be on the new CEO who is expected to be a game-changer.
"His illustrious track record and value system make him an ideal choice to head Infosys," Murthy, who founded Infosys with his six friends 33 years ago, said.
But for those looking for a quick fix are in for a disappointment. "There is no genuine strategy at this time," Sikka was quoted as saying, indicating that he would need some time before he comes up with a plan. The new CEO will be based in Palo Alto in California's Silicon Valley.
A Learner, who Hasn't Forgotten Indian Roots
Sikka, who was head of technology and innovation at SAP, best known for the company's famous analytics product HANA, said that he was "looking forward to learning," setting a tone for his rapport with nearly 1.5 lakh staff members in the company.
Infosys appointed two agencies to search for a new CEO after S.D. Shibulal had indicated an early exit. Sikka has revealed that talks about this job had been going on many days after he resigned from SAP in early May.
Although Sikka has been living abroad for the past two decades, he doesn't seem to have forgotten his Indian roots.
While interacting with the media at the company's headquarters in Bangalore, he said: "I am the son of a teacher and a railway engineer. For us Indians, it is a matter of great pride to be part of this company."
SAP's flagship analytic database platform HANA, developed by Sikka, has been the fastest generator of a billion dollars revenue in the company.
Born in Madhya Pradesh to Punjabi parents, Sikka's family migrated to Gujarat when he was only six. After finishing his schooling at the Rosary High School in Vadodara, he joined the bachelor course in computer science at MSU, Vadodara. But he discontinued the course and instead moved to Syracuse University in New York to earn a BS in computer science.
He started a technology company called iBrain after completing his PhD in computer science from Stanford University. He later founded Bodha, a company that helps e-commerce system's connection with other applications. The two companies were later acquired by bigger companies: the iBrain by Pattern RX and Bodha by Peregrine Systems
He joined SAP in 2002 where he was most recently, in charge of everything related to products and innovation.