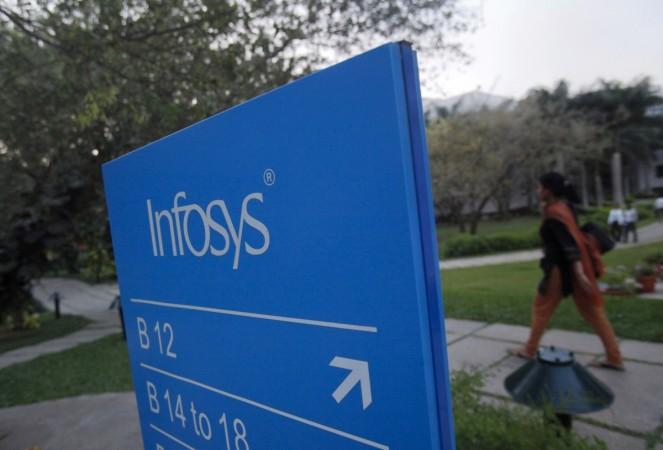 Infosys saw its share price rise more than 8 percent on Nasdaq on Friday after the company declared results for its fourth quarter and year ended March 31, 2016. The company's American Depositary Shares (also American Depositary Receipts, or ADRs) gained $1.55, or 8.4 percent to close at $20 in response to the results. The company also saw salary hike for both offshore and onsite employees.
Indian stock markets were closed on Friday.
Q4, FY2016 net profit and revenues
India's second-largest software exporter by sales reported consolidated net profit of Rs 3,597 crore, up 16.2 percent from the corresponding quarter ended March 31, 2015. Revenues rose 23.4 percent to Rs. 16,550 crore. In dollar terms, net profit stood at $533 million and revenues at $2.44 billion.
For the financial year ended March 31, 2016, the company's net profit grew 9.4 percent to Rs 13,491 crore, while revenues rose 17.1 percent to Rs 62,441 crore compared with figures of the preceding financial year. In dollar terms, net profit was $2.05 billion and revenues $9.5 billion.
Guidance
The company expects its revenues to rise 11.5 to 13.5 percent in constant currency terms.
Salary hike
Infosys announced salary hike in the range of 6 to 12 percent effective April 1, 2016 for offshore employees and 1 to 2 percent for onsite employees. The company had 1,94,044 employees as of March 31, 2016, a net addition of 661 from the previous quarter ended Dec. 31, 2015. The hike was about 6.5 percent in financial year 2014-15.
The attrition was 17.3 percent, down from 18.1 percent in December quarter and 18.3 percent in the quarter ended March 31, 2015. The utilisation rate was 80.1 percent during the March 2016 quarter, down from 80.6 percent for the quarter ended December 2015.
Business, profit per employee
Based on consolidated revenues (Rs. 62, 441 crore) and employee strength (1,94,044) as on the last day of the financial year, the business per employee was Rs. 32 lakh (Rs. 3.21 million). The profit per employee was Rs. 6.90 lakh.
Deal wins
The company won new deals valued at about $757 million during the March 2016 quarter by adding 89 new clients. Total deal wins during 2015-16 were valued at $2.5 billion, up 45 percent from the previous fiscal, according to Pravin Rao, chief operating officer, Infosys.
Vishalspeak (CEO and MD Vishal Sikka)
We are quite happy with our team's performance.
There are always headwinds in certain industries, energy continues to be under stress, telecom and parts of retail also.
Our endeavour is to get $16.5 billion out of the $20 billion through the renewal of our existing (clients)...$2 billion through the new services that we are working on $1.5 billion through inorganic.
The company has a target of achieving $20 billion in sales in 2020-21.
TCS and Wipro will be declaring their fourth quarter and annual results next week.