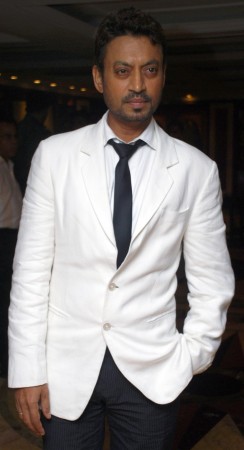 It's a known fact that not only Bollywood star, but even Hollywood stars looks forward to working with Irrfan Khan.
Recently, Hollywood actor Tom Hanks welcomed Irrfan on the sets of "Inferno" with a personal note. Irrfan landed in Budapest on Monday to start the shooting of the Hollywood film "Inferno", which is an adaptation of Dan Brown's book of the same name.
The shooting of "Inferno" started in April, but the Bollywood actor joined the cast only recently. And as soon as he arrived, he was greeted with a Hanks personal note on a postcard with a miniature imprint of a Hanks' face.
"This will be most pleasant movie to make, I think, provided you and I have a few more scenes together! If not, we will just have to save the world as is!" the message from the note reads.
Irrfan later posted the note on his Twitter handle with a message, "My journey of @infernothemovie began with a captain's note @tomhanks."
Earlier in April, the "Piku" star talked about his role and meeting with the entire cast and crew of the film, including Hanks.
"My trip to Budapest was very fruitful. I went there for a week. It was good to meet the entire cast of the film. Tom and I along with the director and other cast members did some script reading and I also got to almost finalise the look and feel of my character," Irrfan said in a statement.