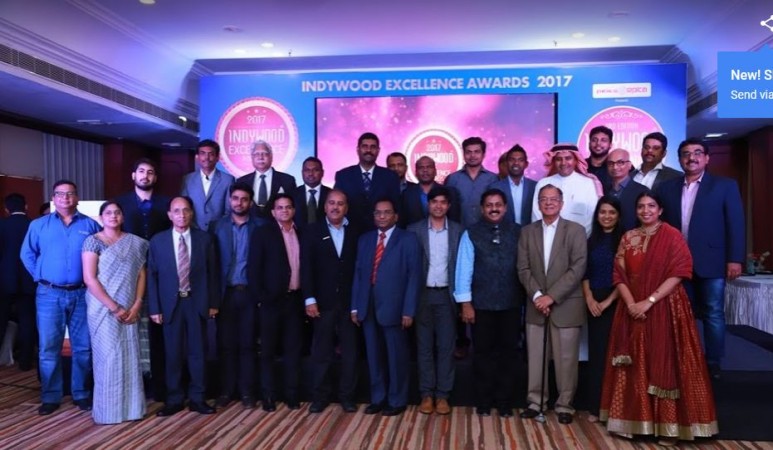 Mr V Senthil Kumar, co-founder of Qube Cinema Technologies and other renowned IT personalities and organisations were honoured with the Indywood IT Excellence Awards 2017.
Indywood IT Excellence Awards 2017 was held at Ramoji Film City, Hyderabad on December 1, 2017. The award is meant to recognise and facilitate the efforts made by IT organisations and personalities towards the development of their sector. Mr Mohammed Ibrahim Al Qahtani, senior advisor to Saudi Aramco, was the chief guest of the event.
Indywood IT Excellence Awards for Entrepreneurs were bestowed upon individuals to recognize and celebrate their ideas, innovation and inspiration that have made a huge impact on to their industry. Some personalities were honoured with the Lifetime Achievement Awards.
A panel discussion on 'Contributions of IT industry towards transforming the entertainment sector' was also conducted during the ceremony. The panel discussed possibilities and the recent innovations made by the IT industry to uplift the entertainment sector and bring it at par with world standards.
The session was moderated by V Rajanna, vice president of Global Head-Technology Business Unit Head of TCS. Senthil Kumar and Ms Ranjana Narawane, Industry Capability Lead for Communication, media and technology at Accenture were the panelists at this discussion.
Here is the winners list of Indywood IT Excellence Award 2017:
No
Awards
Winners
1
Lifetime Achievement Award
Mr V Senthil Kumar, Co-Founder, Qube Cinema Technologies
2
Personality of the year award Mr Saiprasad Akkeneni, Director, Prasad Corporation Ltd
3
Indywood IT Excellence Awards for Entrepreneurs
1 Mr Rahul Gedupudi, CEO, Kensium Solutions,2 Mr Nagarajan, Founder & Managing Director, Winsols Studios Pvt Ltd,3 Mr Dasaradha R Gude, Chairman & CEO, Invecas Technologies Pvt. Ltd,

4 Mr. Niranjan Chintam, Executive Chairman, Kellton Tech Solutions Limited,

5 Mr Varun Chandran, CEO, Corporate360,

6 Mr Ashok Reddy, Founder & CEO, Landmark IT Solutions

7 Mr Hari Bharadwaj, CEO & MD, MyIndMedtech Innovations Pvt Ltd.

4
Award for Leader in Technology Innovation
Tata Consultancy Services (TCS).
5
Award for Technology Leader of the Year
Cisco Systems
6
Global Cinema and Technology Innovation award
Qube Cinema Technologies Pvt Ltd
7
Global Cinema and Technology Excellence Award
Prasad Group
8
Best Information technology Service provider of 2017
Tech Mahindra Ltd
9
Leading Technology Service Provider
CA Technologies
10
Most innovative IT all-rounder 2017
Hexagon Capability Center India
11
Most Valued Distributor of the year
Rashi Peripherals Pvt Ltd
12
Nation's Fastest Growing IT SEZ Park
UL Cyber Park
13
Best CBSE School
Our Own English High School
14
Largest Indian community school in the Emirate
Sharjah Indian School
15
India's Best media based Tech Information provider
Gadgets 360
16
Excellence in Diversity and Inclusion Awards 2017
Clockwork Business Solutions Pvt. Ltd
17
Fastest growing Technology service provider 2017
InsideView Technologies India Pvt. Ltd
18
Excellence in Digitizing India Awards 2017
Dhanush Infotech Private Limited
19
Excellence in Innovative information technology Award
ATG Informatics India Pvt Ltd
20
Innovative Tech Start-up of 2017
Inntot Technologies Private Limited
21
Excellence in Data Management Company of 2017
PiLogIndia Private Limited
22
Award for Excellence in Web development and digital marketing
Inovies Consulting Private Limited
23
Tech Start-up of the Year
Technoware Solutions