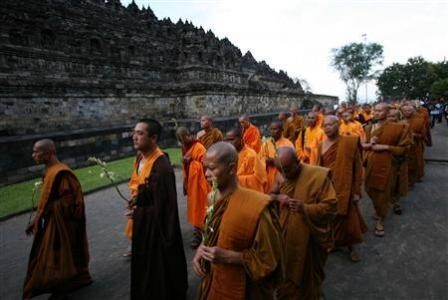 An explosion rocked the Ekayana Buddhist Centre in West Jakarata, Indonesia, injuring three worshippers on Sunday night.
According to The Jakarta Globe, the three wounded people sustained arm and ear injuries.
The explosion came from a low-end device which curbed the intensity of the blast. Police recovered two more unexploded devices from the site with one only emitting smoke.
The blast shattered a glass door of the temple, but the official statement cited "no damage at all".
The explosions were believed to have been carried out in retaliation to the growing resentment of the treatment meted out to Rohingya Muslims in the Buddhist dominated Myanmar.
A source from the Indonesia's counter terrorism squad, Densus 88, was quoted by the agency as saying, "We suspect this is related to the Rohingya Muslims who are oppressed in Buddhist-majority Myanmar. This, we suppose, is an act of revenge by a terrorism group."
A letter alleging discrimination of Rohingya Muslims was also found inside one of the bomb packages.
CCTV footage near the temple showed two perpetrators placing the bombs near the site.
Jakarta Police spokesman Sr. Comr. Rikwanto in Jakarta told Antara news agency, "Two alleged perpetrators on a motorcycle came to the vihara (monastery) carrying green and yellow packages. They put the packages in and outside the temple."
"We have questioned five witnesses who saw the incident. They are temple staff members," he added.
Indonesia's Coordinating Minister of Politics, Justice and Security Djoko Suyanto called for immediate action against the culprits. "Find and arrest whoever did the explosion at the Ekayana temple soon. The government has condemned the act, which has ruined the peaceful spirit of the holy month of Ramadan," he said.