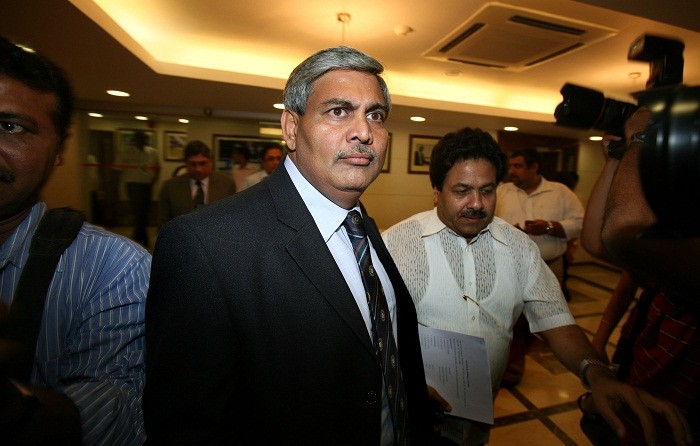 The scheduled meeting between the heads of the Board of Control for Cricket in India (BCCI) and Pakistan Cricket Board (PCB) has been shifted to Delhi after Shiv Sena members stormed the BCCI headquarters in Mumbai to protest the PCB's presence.
The meeting has been scheduled for Monday evening and Tuesday. IPL chairman Rajeev Shukla confirmed the heads of the BCCI and PCB are flying to Delhi for the all-important meet.
"The talks have not been called off. Shashank Manohar and Shahryar Khan will speak to each other in the evening today and tomorrow. They are coming to Delhi for another round of talks," NDTV quoted Shukla as saying.
"In no way, the dialogue will be stopped. BCCI have never compromised with national interests."
Around 40-50 Shiv Sena members stormed into the BCCI headquarters and shouted slogans against Pakistan and also held placards, which read, "Shahryar Khan go back".
On the invitation of the new BCCI president, Shashank Manohar, PCB chief Shahryar Khan and the head of the PCB's executive committee Najam Sethi travelled to India on Sunday.
"The trip is being made on the invitation of Shashank Manohar who took over as the new Indian cricket chief," PTI quoted an official in the PCB as saying.
With the meeting to take shape on Monday and Tuesday, the PCB and BCCI are expected to talk about the India vs Pakistan series, which has been tentatively scheduled for December, with the PCB eager to host the Indians in the UAE as per the Memorandum of Understanding signed between the two boards.
The BCCI had then agreed that India would play Pakistan six times in eight years, including the December series, and the PCB have been pressing the BCCI to fulfil the agreement.
The PCB have wanted BCCI to give their go-ahead to the India-Pakistan bilateral series, but the cash-rich India cricket board have stuck to the stance that they are not going to play Pakistan unless diplomatic relations between the two countries improve.
PCB are aware of the problems, and are also open for a shorter series in December.
"The PCB is mentally prepared to even settle for a shorter series but want it to be Pakistan's home series and in the UAE," the source said.
It remains to be seen if the BCCI will change the stance and comply to PCB's demands of a short series in the UAE.
However, there have been reports regarding the possibility of a tri-series featuring India, Pakistan and Bangladesh.
"The BCCI do intend to promote a tri-series, but non-India games are not attracting revenue and BCCI's cost of production is so high it's not remunerative. We're trying to work out how it can be done," a BCCI member privy to the discussions told ESPNcricinfo.