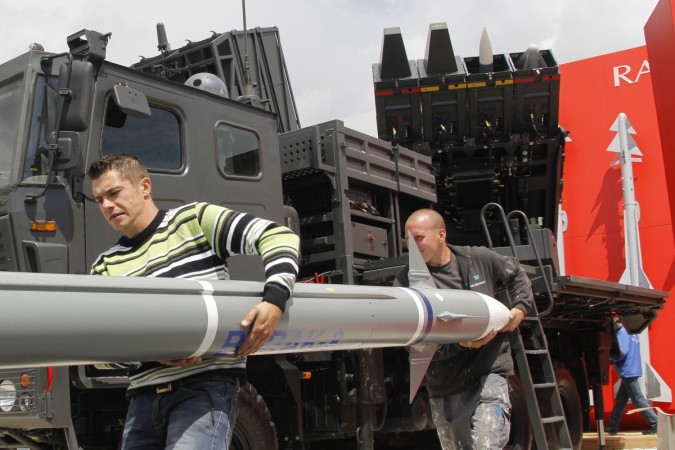 India test-fired a new medium-range surface-to-air missile (MRSAM) from the Integrated Test Range (ITR) at Chandipur-on-sea, on the Odisha coast, at about 10.15 am on September 20, 2016.
The missile was launched in its full operational configuration from a mobile launcher. The results of the test are not known yet, The New Indian Express reported. Another missile test is scheduled to be conducted from the same centre.
The missile is a product of the joint development between India's Research Centre Imarat (RCI) and Israel's Israel Aerospace Industries (IAI). The missile will be tested against a pilotless target aircraft imitating a combat aircraft.
The missile weighs around 270kg, is 4.5-metre high and carries 60kg of payload. It has a speed of Mach 2 and is suited for medium-range targets.
The ground system that fires the missile is said to have the famed Multi-Functional Surveillance and Threat Alert Radar (MFSTAR). This radar is useful to detect, track and provide guidance for the missile, and is capable of intercepting aerial threats within a range of 70km.
Apart from the radar, the missile is guided by on-board avionics. It has the ability to identify and neutralise airborne targets like rockets, missiles and jets. The new missile is said to have the capability to take on rockets that are released simultaneously.
This project is a medium-range version of the long-range surface-to-air missile (LRSAM), also called Barak-8, which is being tested for the Indian and Israeli Navy.
Though the missile is yet to be named, India signed a contract worth Rs 10,076 crore in February 2009 for the development of the missile.
Meanwhile, the district administration is taking all precautionary steps to see that residents of the hamlets near the testing range are not affected. Residents of seven hamlets — a total of 3,652 people — have been shifted to safe locations, the report noted. Fishermen in the area were advised not to venture out into the sea.
A team of Israeli scientists is stationed around the area to witness the tests.