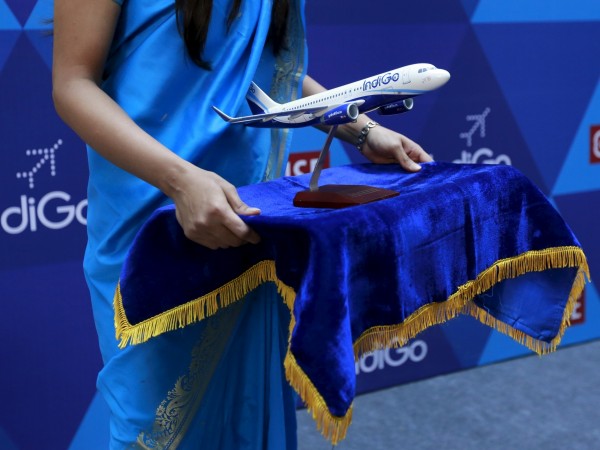 A staff member of IndiGo Airlines made two drunken men fall at her feet and apologise because they misbehaved with her. The incident happened on the night of Saturday, November 18, at the Rajiv Gandhi International Airport in Hyderabad.
The incident came to light after a video showing the two men apologising to the staffer went viral. The airline employee showed courage and dragged the accused to the police station with the help of a traffic cop. She confronted the two men for misbehaving with her, and then asked them to apologise, before finally forgiving them.
The accused were booked for creating a nuisance, but the IndiGo employee let them go after they touched her feet and apologised to her. "Bend down completely and touch my feet. Only then will I let you go," she is heard telling the two men in the video.
She even refused to file a complaint against the men, Mumbai Mirror reported.
According to police sources, one of the accused, who had come to the airport along with his friends on Saturday night, got down from his car and touched the airline employee inappropriately.
"It was a mistake on our part. We misbehaved as we were under the influence of alcohol. Forgive us," one of the accused is later heard telling her in the video.
This may be a welcome development for IndiGo Airlines, which has been in the news for all the wrong reason of late. The airline had to issue an apology to a female passenger on November 13 after she fell from a wheelchair that was being pushed by a staffer. The passenger suffered minor injuries due to the fall.
"Our IndiGo representative was pushing her wheelchair towards the arrival hall. As he was guiding her wheelchair through a vehicular lane, which was dimly lit at that time of the night, her wheelchair got stuck in a deep crack on the tarmac and lost balance and she fell off her wheelchair," the airlines said in a statement.
Earlier, IndiGo staff were accused of manhandling and abusing a passenger at the Indira Gandhi International (IGI) Airport in Delhi.