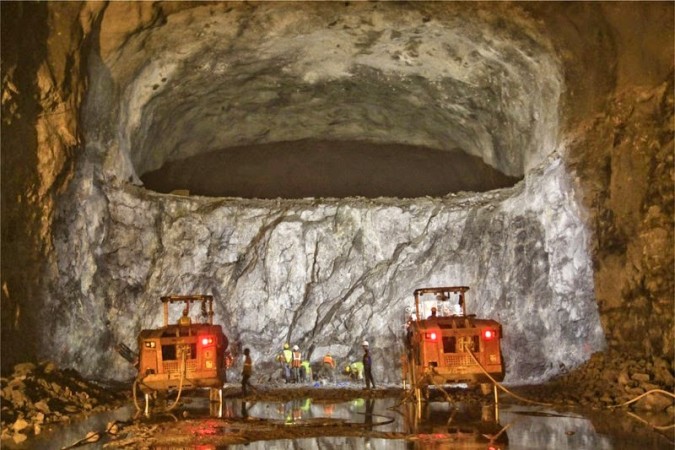 Foreign players' robust interest in the strategic petroleum reserves (SPR) programme has encouraged India to open it to more partnerships.
The foreign interest is despite the precondition that India reserves the right for refusal in case of emergencies in the SPRs administered by special purpose vehicle Indian Strategic Petroleum Reserves (ISPRL), sources say.
India's largest SPR with 2.33 million tonnes (MT) capacity in Padur near Karnataka's Udippi got the federal cabinet's nod for filling up last week. The other two SPRs are in Mangalore in Karnataka on the western coast and Visakhapatnam in Andhra Pradesh on the eastern coast. The nation's total SPR capacity of 5.33 MT can last upto 95 days' of consumption.
The Mangalore facility was commissioned in October 2016 with one compartment filled by Mangalore Refineries and Bharat Petroleum Corporation. The second compartment has been allotted to Adnoc or the Abu Dhabi National Oil Company under a bilateral agreement between India and the United Arab Emirates. According to ISPRL, the first consignment of 2 million barrels of oil from Adnoc reached the Mangalore facility on in May 2018, according to ISPRL.
Aramco, the national oil company of Saudi Arabia, has evinced interest in utilising India's SPR facility in Padur. ISPRL is also exploring the public-private partnership model to administer the SPR to reduce budgetary allocation.
The government plans to increase the total SPR capacity by another 6.5 MT for which it granted ISPRL in-principle approval in June 2018 by establishing a new facility at Chandikhol in Odisha and expanding the Padur facility.
India is the third largest consumer of crude oil in the world with 80 percent of its energy requirements met through imports. So, SPRs are vital for national security and economic stability, according to sources.
Petroleum Minister Dharmendra Pradhan said last month that Aramco and Adnoc have shown interest in the second phase of India's SPR programme that would need investments to the tune of Rs 110 billion.
These companies were also interested in India's large refining market and other revenue streams, the minister said.
The ISPRL authorities are in talks with several private sector players in India also for participating in the SPR programme.