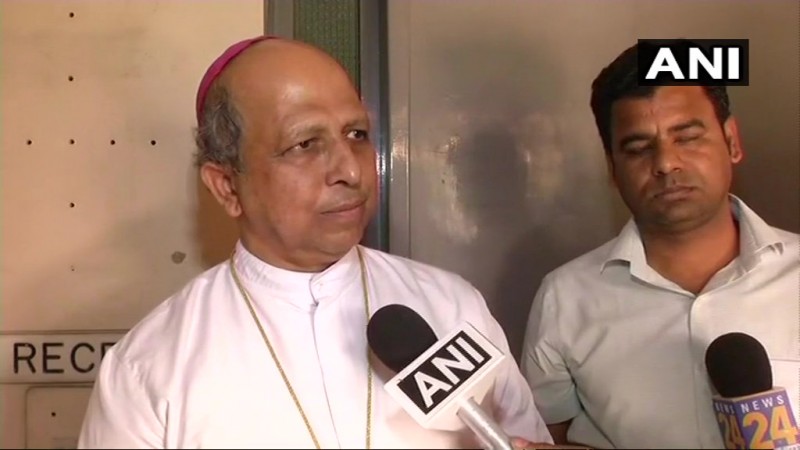 Delhi Archbishop Anil Couto stoked controversy after his letter about India's current political scenario and democratic principles being under threat hit the headlines on Tuesday (May 22).
However, the letter, wherein Couto has called for a prayer campaign owing to the "turbulent political atmosphere threatening democracy and secularism" before the 2019 general elections did not go down well with the right-wing associations in the country and they immediately jumped to their defence.
Right wingers condemn letter
The letter, which was written on May 8 appealed to the Christians to observe a fast on Fridays and contained a prayer, that was to be read at Sunday masses.
"May the ethos of true democracy envelop our elections with dignity and the flames of honest patriotism enkindle our political leaders. This is our cry, Heavenly Father, in these troubled times as we see the clouds eclipsing the light of truth, justice and freedom," read the prayer
The letter, attached to the prayer said, "It is our hallowed practice to pray for our country and its political leaders all the time, but all the more so when we approach the general elections. As we look forward towards 2019, when we will have new government, let us begin a prayer campaign for our country from May 13 (sic)," the letter said.
The letter and prayer have earned criticism from many right-wingers as most of the states in India are ruled by the BJP.
While Union Home Minister Rajnath Singh said that "minorities are safe" in India, Union Minister of Minority Affairs Mukhtar Abbas Naqvi jumped to defend the Narendra Modi government.
Naqvi said that Modi was "breaking barriers of religion and castes" and his government was also committed towards the growth of minorities, reported Hindustan Times.
Shaina NC, a BJP spokesperson, said that it was "wrong to instigate castes and communities".
"You can tell them to vote for right candidate or party but to suggest voting for one party and not another and term yourself as secular vs pseudo-secular is unfortunate," News 18 quoted Shaina as saying.
RSS leader Rakesh Sinha branded the letter as a "direct attack by the church on Indian secularism and democracy".
Archbishop clarifies his intention of issuing the letter
Even as politicos continue to heap criticism on Couto, the Archbishop has clarified that his letter has nothing to do with the Narendra Modi government.
"This does not pertain to the government of Narendra Modi or anybody like that. In the last four years, so much has appeared in newspapers and media, with regard to eating habits of people, lynching incidents and also the four judges coming out in public and all these things happening at the level of judiciary causes concern and as a citizen of India, I am raising concerns. We are law-abiding citizens and therefore we are concerned," News 18 quoted Couto as saying.
In all churches&institutions we pray&fast. We pray for our own renewal & that of country. Keeping in mind all that's happening in our country we said that we look forward to next election & next govt. Every govt should protect people&Constitution: Anil Couto, Archbishop of Delhi pic.twitter.com/HyFsIo4DhO

— ANI (@ANI) May 22, 2018
What else will I talk? Elections & govt concerns us. We've to have such govt that cares for freedom of people,rights&welfare of Christian community. I'm not meddling in partisan politics. We're just praying that nation should walk in right direction:Anil Couto,Archbishop of Delhi pic.twitter.com/UEqZX4PNWL

— ANI (@ANI) May 22, 2018
The Archbishop's secretary, Father Robinson Rodrigues, told The Times of India that they hold special prayers in the churches every four years. "Only this time a political color is being deliberately given to the whole exercise by some people," Father Rodrigues added.