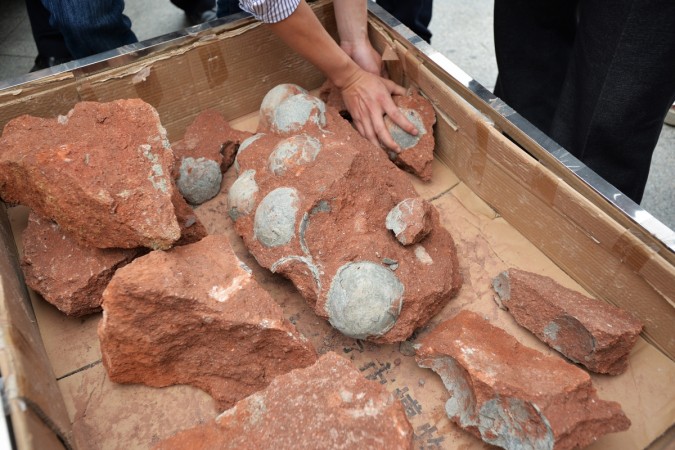 Here's a good news for dinosaur enthusiasts. Locals in Balasinor city of Mahisagar district in Gujarat discovered a dinosaur egg on Saturday evening during a digging exercise.
Balasinor is known as the home to one of the world's largest dinosaur fossil sites. There is a fossilised dinosaur nesting ground in the city and now the locals have discovered the egg that is believed to be about 65 million years old.
Also Read: Dozens of well-preserved dinosaur eggs from 130 million years ago discovered
The latest discovery has created much excitement among the people, but the egg is not intact. The locals discovered the egg in broken pieces. Nevertheless, the villagers have handed over the fossil to the forest department and Mamlatdar and later it will be handed over to the Geological Survey of India (GSI) for further research. A laboratory test will take place to make sure whether the egg belongs to the extinct species or not.
On Sunday, Aaliya Sultana Babi, a dinosaur enthusiast and scion of the Balasinor royal family, visited the site where the egg was discovered. Babi, who is known as Dinosaur Princess, has been working with the GSI, state tourism department and palaeontologists.
"It was just one egg that was discovered by some labourers on Saturday evening while they were digging rocks probably for the foundation of a house. It's probably a sauropod egg (herbivore)," The Indian Express quoted Babi as saying.
The first discovery of dinosaur fossils took place in the 1980s in Raiyoli village near Balasinor and since then researchers have discovered several fossils of one of the most giant and now extinct species. Raiyoli village is known as the third largest hatchery in the world.
According to researchers, around six crore years ago, the extinct species preferred the belt of Narmada Valley from Balasinor to Madhya Pradesh to lay eggs. In fact, palaeontologists believe that around seven different species of dinosaurs lived near the belt.
Back in 2003, in a major discovery, the fossil park in Balasinor found out new species, which belonged to the Tyrannosaurus Rex family, according to reports. The species was given the name of Rajasaurus narmadensis because of its existence in the Narmada region around 65 million years ago.