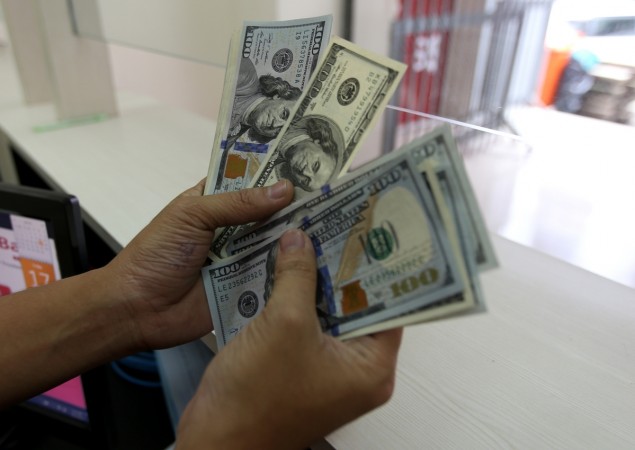 India's foreign exchange reserves rose to a fresh lifetime high of $375.71 billion as of May 5, propelled by sustained dollar inflows from foreign portfolio investors (FPIs). During the reported week (May 1to 5), the country added $2.47 billion in foreign currency assets, while gold reserves increased by $569 million to reach $20.43 billion.
The statistics were released by the Reserve Bank of India (RBI) on Friday evening. The previous all-time high was $372.73 billion as of April 28, 2017.
The news comes a fortnight ahead of the Narendra Modi government completing three years in power (on May 26). The reserves stood at $312.38 billion on May 30, 2014, four days after the Narendra Modi government was sworn-in.
The spike in foreign exchange reserves for the reporting week (ending May 5) came despite FPIs turning net sellers during the truncated week of stock market trading.
The stock markets are on a roll of late, hitting lifetime highs, though they slided on Friday (May 12) on news of under-reporting of bad loans by Yes Bank and a cautious monsoon prediction for this year by private weather forecast Skymet.
The week ended May 12 saw FPIs reversing their previous week's selling streak and purchasing Indian equities in a big way. On Friday, they were net buyers of Indian stocks worth Rs 841 crore, according to provisional data released by the National Stock Exchange (NSE). In sharp contrast, domestic institutional investors turned net sellers of stocks worth Rs 711 crore.
Retail inflation for April drops below 3 percent
Provisional statistics released by the government showed that retail inflation for April dropped to 2.99 percent from 3.89 percent (final) in the previous month. Food price inflation dipped to less than 1 percent (0.61 percent) from 2.01 percent (final) in March.
The sharp decline in food inflation was caused by a fall in prices of pulses and vegetables, though sugar prices rose again.
The fall in inflation is likely to throw a challenge to the conservative stance of the RBI with regard to its monetary policy. "April CPI inflation is likely to ease stay below the 4.0% target, challenging the central bank's cautious stance," Radhika Rao, economist, group research at DBS Bank, had said in a note on Friday ahead of the data release.
"Softer Apr inflation and further slippage in May-Jun will be at odds with the RBI's cautious stance," she added.
The next RBI monetary policy meeting is on June 6 and 7.