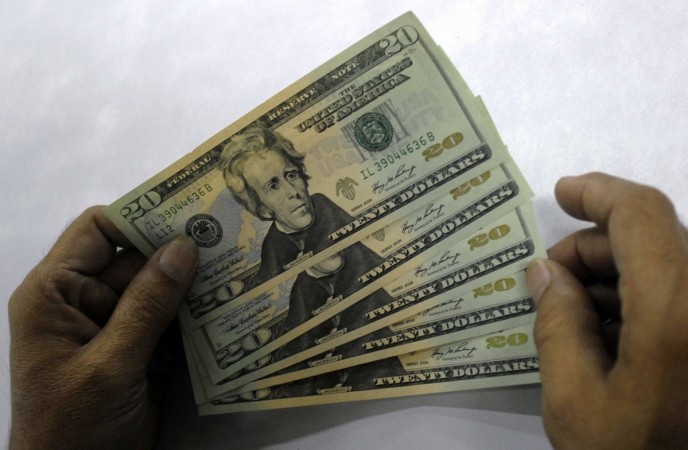 Aided by a sharp rise in foreign currency assets (FCAs), India's foreign exchange reserves rose $989.5 million to hit a new high of $367.76 billion for the week ended Sept. 2. The reserves had declined for the preceding reporting week ended Aug. 26.
FCAs, which form the largest component of the country's foreign exchange reserves, increased $952.2 million, according to the Reserve Bank of India (RBI) data released on Friday.
Gold assets went up marginally to $21.64 billion, according to the central bank's weekly statement.
In the previous reporting week, foreign exchange reserves had dropped $392.6 million to $366.77 billion after reaching a high of $367.16 billion in the week ended Aug. 19.
Meanwhile, stock markets ended in the red on Friday on account of profit-booking and negative global cues. The BSE Sensex closed 248 points lower at 28,797, while the NSE Nifty lost 85 points to end at 8,867.
The 30-scrip Sensex was dragged by Axis Bank, Hindustan Unilever, ITC, Tata Steel and Hero Motocorp. ITC closed at Rs. 258.70, down 2.49 percent, while Tata Steel lost 2.08 percent to end at Rs. 394.50.
Foreign institutional investors (FIIs) were net sellers of Indian equities worth Rs. 315.24 crore on Friday, according to provisional data released by the National Stock Exchange (NSE).
Coal India, which was initially supposed to declare its June quarter results on Friday, postponed it for the second time, to Sept. 13, after rescheduling it to Sept. 11.
In other corporate news, HDFC ERGO General Insurance Company Limited (HDFC ERGO), a private non-life insurance company, announced completed acquisition of 100 per cent stake of L&T General Insurance Company Limited (L&T Insurance) for Rs. 551 crore. The acquire entity will also undergo a name change.
"L&T Insurance is proposed to be renamed as HDFC General Insurance Limited and will operate as a wholly owned subsidiary of HDFC ERGO General Insurance Company Limited," HDFC ERGO said in a statement on Friday.
"Both entities would shortly be applying to the Bombay High Court for approval of Scheme of amalgamation," Ritesh Kumar, MD and CEO of HDFC ERGO said.