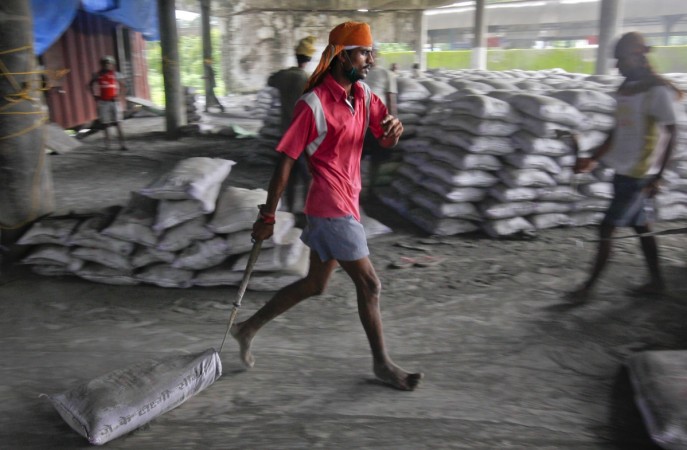 Eight core industries that account for about 38 percent of India's industrial output rose 5.7 percent in February, driven predominantly by fertilizer, cement and electricity sectors, according to a statement issued by the Indian commerce & industry ministry Thursday. The growth in the eight core industries is the highest in at least 13 months, according to Reuters.
Crude oil and natural gas production continued to lag, while refinery production almost doubled to 8.1 percent on a year-on-year basis.
Fertilizer production rose 16.3 percent during the month over February 2015, while cement production increased 13.5 percent when compared to the year-ago period, the statement said.
Coal
Coal production grew at a slower clip at 3.9 percent, after having grown at 9.1 percent in January 2016 and 6.1 percent in December 2015.
India has targeted coal production of 1 billion tonnes by 2020, more than double from 494.23 million tonnes produced in 2014-2015, the government informed the Lok Sabha on March 3 in a written reply.
Cement
Cement production is on the upswing in India. The aggregate revenues of 18 cement companies grew 5.3 percent to Rs 19,300 crore in the third quarter ended December 2015 on a year-on-year (YoY) basis with volumes up 5.9 percent, said brokerage firm Nirmal Bang in a February note.
However, the average realisation (of the 18 cement companies) was down 1.8 percent on a sequential basis, it added.
Crude oil
Crude oil production picked up modestly in February at 0.8 percent after two consecutive months of decline in January (4.6 percent) and December 2015 (4.1 percent).
Electricity
Electricity generation has shown consistent growth over the months, rising from 2.7 percent in December 2015 to 6 percent in January 2016 and 9.2 percent in February 2016, on a year-on-year basis.
Electricity has the maximum weightage in the index at 10.32 percent, followed by refinery at 5.94 percent, crude oil 5.22 percent and coal at 4.38 percent.
Benchmark Indian stock market indices Sensex and Nifty posted biggest monthly gains in over four years Thursday, the last day of financial year 2014-2015.