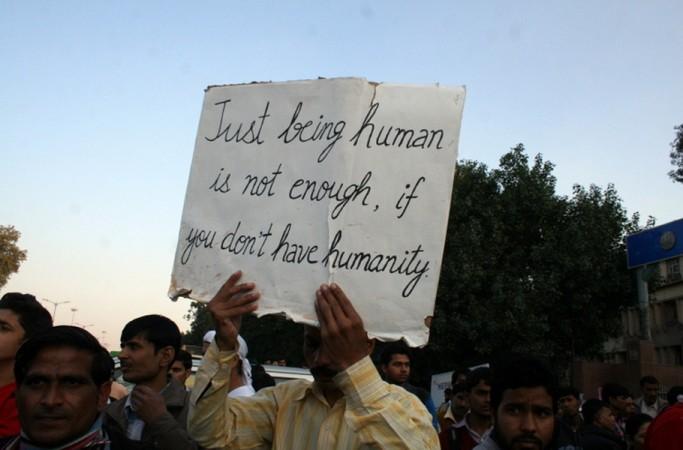 Not a moment too soon. The controversial BBC documentary 'India's Daughter' has been banned by the Indian Government merely days after BBC was granted permission to air the show in the subcontinent.
Home Minister Rajnath Singh told the media he was shocked how BBC was granted permission to interview Mukesh Singh - a death row inmate - inside Delhi's high-security Tihar jail. The Home Minister said he has summoned the director general of Tihar Jail Alok Kumar Verma to explain how and why British filmmaker Leslee Udwin was granted permission to interview Mukesh Singh.
Rajnath Singh's reaction is not a surprise as it came after dozens of women MPs from opposition parties stormed the well of the Rajya Sabha, protesting against the documentary. The Delhi Police has also registered an FIR against Udwin and had obtained a restraining order soon after excerpts of the documentary surfaced on YouTube and was leaked to the media.
Here's why the documentary has stirred an outrage in India - in the interview, instead of showing any remorse whatsoever, Mukesh Singh, who was driving the bus when a group of men savagely raped a 23-year old girl (who later died from her injuries) and brutalized her with an iron rod, in December 2012, pinned the blame wholly on the victim.
In the documentary, Singh can be heard saying that girls who are being raped should "should just be silent and allow the rape." "A decent girl won't roam around at 9 o'clock at night," Mukesh Singh said during the interview. "A girl is far more responsible for rape than a boy. Boy and girl are not equal."
According to Singh, girls are fit for "housework and housekeeping....not roaming in discos and bars at night doing wrong things, wearing wrong clothes." He justified raping, saying men "had a right to teach them (girls) a lesson."
"If girls don't stay within their boundaries, if they don't wear appropriate clothes, then naturally there is attraction. This attraction makes men aggressive, prompting them to just do it," he said.
Singh is one of the four men who was sentenced to death but the Supreme Court had subsequently stayed their execution.
Udwin said the ban was unexpected as she had obtained permission from the Tihar jail as well as from the Home Ministry to conduct the interview with Mukesh Singh. She said she had also obtained signed consents from the convicts who were interviewed for the documentary, including Mukesh Singh. Moreover, the unedited footage was also shown to the government authorities and after watching the documentary, the feedback she got from a three-man committee was that "it's too long," Udwin said.
According to Udwin, the Indian government should have allowed the documentary to air, instead of "blocking it with a knee jerk hysteria without even seeing it." "This was an opportunity for India to continue to show the world how much has changed since this heinous crime," she wrote.
Going into damage control mode, Rajnath Singh promised to take to task the Home Ministry officials who had granted Udwin the permission for the shoot. He also promised to review existing provisions that allow shoots inside prisons so that such an incident is not repeated.
At the heart of the controversy is the NOC (No Objection Certificate) that was secured by Udwin July 2013. "This concerns the request of Leslee Udwin for entering the Tihar Jail to interview some convicts intimated by your letter dated July 22. The Ministry has no objection to the proposal provided informed written consent is obtained from each of the convicts interviewed," the NOC, written by Home Ministry Joint Secretary S. Suresh Kumar, read. At that time, Congress leader Sushilkumar Shinde was the Home Minister but Shinde denied giving any permission for shooting the documentary and said he would have never sanctioned such permission.
Meanwhile, many women MPs said the issue is a wake-up call for India. While Samajwadi Party (SP) MP Jaya Bachchan said the government should take action against the culprits immediately instead of shedding "crocodile tears," Rajya Sabha MP Anu Aga said the remarks of Mukesh Singh is a reflection of many men's attitude towards women in India. "Why are we shying away from reality? We should confront the issue. Let us not pretend that all is well," Aga said, arguing that such documentaries serve to increase awareness of horrors of rape and plight of women in India and Indians should have courage to face their own devil instead of trying to kill the messenger.
However, prominent feminist and senior lawyer Indira Jaising feels that this documentary encourages "tolerance of any form of violence" and wrongly projects "justifications for rape" and risks turning the convicts into "natural role models" for many misogynistic men in India.