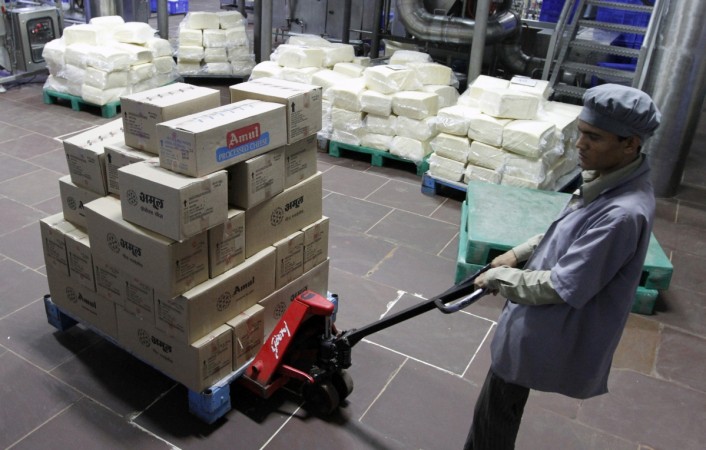 Gujarat Cooperative Milk Marketing Federation (GCMMF), which owns Amul dairy brand, clocked 67 percent growth in turnover to Rs. 23,004 crore in financial year 2015-16, reported the Business Standard. In the past six years, the federation has grown by 187 percent, or 19.2 percent growth compounded annually.
The company boasts of passing on 80 paisa for every rupee earned to its dairy farmers on each of its flagship Amul product sold.
The federation, along with its constituent member unions representing unduplicated turnover of all products under Amul brand, recorded an overall turnover of Rs. 33,000 crore or $5 billion, said the daily.
It stood 13th among major dairies in the world, putting back other biggies like Land O'Lakes and Schreiber Foods of the U.S., Muller of Germany, Groupe Sodiaal of France, and Mengniu of China, said International Farm Comparison Network.
"In last two years, when dairy farmers across the world have witnessed a sharp decline in farm-gate prices of milk, only farmer-members of Amul cooperative family have witnessed growth in milk procurement price," said Jethabhai Patel, chairman of GCMMF.
He noted that in New Zealand dairy farmers have taken a beating over the last two years as the farm-gate price of cow mild declined by 47 percent there. However, farmer-members of Amul family saw 17 percent hike in their milk procurement price as the federation renewed focus on marketing value-added milk and dairy products in consumer packs, he added.
Over six years time frame, milk procurement has risen by 87 percent and milk procurement prices rose by 90 percent.
As India's largest dairy firm, and nicknamed as Amul, the Anand-headquartered GCMMF is also pushing dairy entrepreneurship of rural youths.