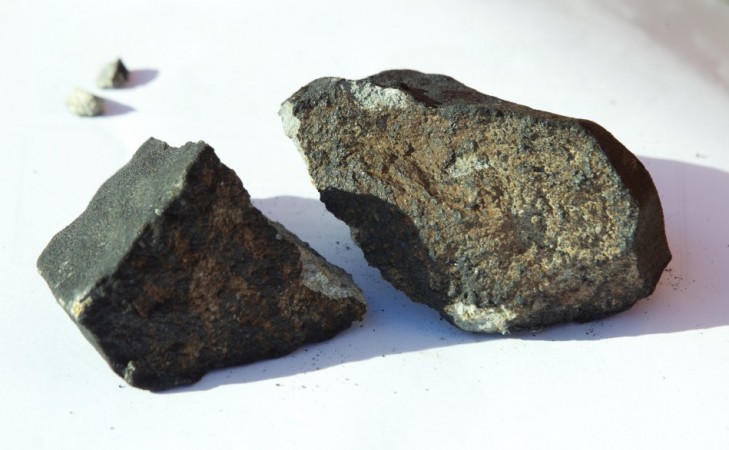 Residents of Gurugram's Fazilpur Badli village were left stunned when a piece of "large rock" fell from the sky into a wheat field on Saturday. The villagers believed that the large piece was a meteor and said that it came "shooting out of the sky."
However, it turned out that the large piece of rock was actually frozen human excreta that fell from an aircraft.
Also Read: Meteorite hunter discovers 3 space rock pieces that are the size of pecan
On Saturday, the ice cube like object, which weighs 8 kg, fell from the sky, created loud thud and formed one-foot crater in the Fazilpur Badli village. Rajbir Yadav, a farmer, was in the wheat field when he noticed the big piece of "rock." Soon after that several villagers rushed to the spot and the news spread like wildfire in the village.
The piece had a pale yellow-brown colour texture with a transparent surface. Some villagers believed that the mysterious object was a space rock. A few villagers even took home pieces of the object believing that it is a part of the celestial object and kept it in their fridge.
"I rushed to the spot and saw the object. It seemed to weigh at least 8 or 10 kg, judging by the dent it had made on the ground. Initially, we thought it could be ice but it was not melting. So, we figured it must have some kind of chemical in it. We were uncertain if it was safe to touch, so I called up the SHO at Farrukhnagar police station, who arrived at the spot with his team," the Indian Express quoted sarpanch Govind Singh as saying.
Inspector Karan Singh, the SHO of the police station, confirmed that he received a call and when he reached the spot, he and his team saw the object. After reaching the spot, Karan informed senior medical officers.
After some time, a team of scientists from the India Meteorological Department (IMD) reached the spot to collect the samples. They also informed National Disaster Management Authority (NDMA).
The team of scientists confirmed that the "meteor" was actually frozen faeces that fell from a passing aircraft.
"It was not meteor of course because the meteor is a solid object and cannot melt. The object we found there was as transparent as ice and it could be ice or human excreta. After a chemical analysis of the object, we can be sure of what it was," SP Bhan, senior IMD official who collected samples from the spot, told Hindustan Times.
Meanwhile, the villagers who kept the "meteor" pieces inside their fridge had to soon clean their houses after it was revealed that the object was frozen faeces.
This is not the first time a case of human waste falling from skies in India has been reported. In 2016, a woman from Madhya Pradesh suffered severe head injury after she was hit by frozen football sized human excreta.