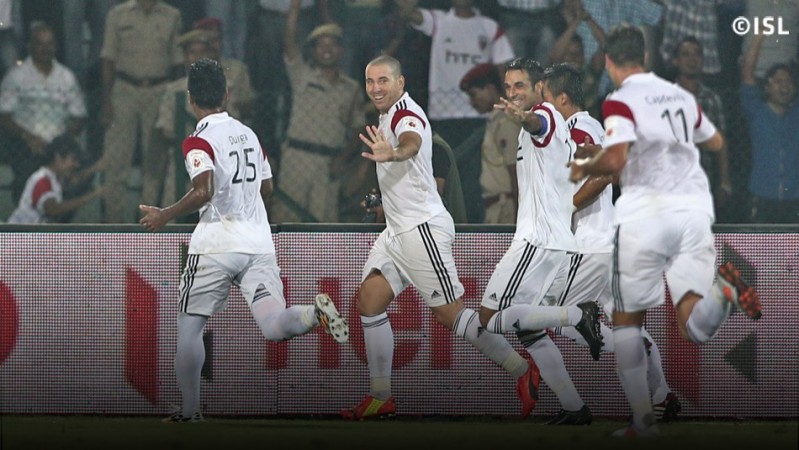 NorthEast United captain Miguel Garcia feels that his side were the better team during their clash against FC Goa and they are improving with every fixture in the Indian Super League.
Although NorthEast United were only able to register a draw in their third successive home fixture against FC Goa, they were the slightly better side, getting more shots on target than Zico's side.
And Garcia feels that his side are becoming better with every game in the ISL.
"I think we played really well," Garcia told ISL's official website. "Even against Kolkata, we played well. Today, we had a lot of opportunities but unfortunately, we could score only one goal. At least we didn't lose; one point is one point. Game by game we are getting better, and hopefully we will win the match at Mumbai."
NorthEast fell behind following a mistake from their goalkeeper Rehenesh TP, who failed to collect a relatively easy freekick, allowing Gregory Arnolin to force the ball into the net.
On being asked whether he believed that NorthEast would equalise Garcia said: "Yes. Even before our goal, I had a lot of confidence that sooner or later we would score. What happened in the penalty could happen in normal play. In the second half, we toiled away but Goa also played very well. Like I said before, we will now try in Mumbai."
The 31-year-old Portuguese, who admits that his side were poor and very defensive against Kerala Blasters in their fixture, revealed that their boss Ricki Herbert and performance manager Lee Taylor told them to go "on the offensive" against Goa.
"In our first match against Kerala we didn't play well," Garcia admitted. "And our coach Ricki and also Lee Taylor spoke a lot of us being able to play on the offensive. We need to open the whole field and chip the ball and today we did this and performed quite well."
Meanwhile, FC Goa boss Zico also says that he is satisfied with his side's performance despite only picking up a draw against NorthEast United FC in Guwahati.
"Most of the players played very well. It was a tough game, but the boys played well. It was a very good game and the team performed really well and created a lot of opportunities," he told Goal after the match.