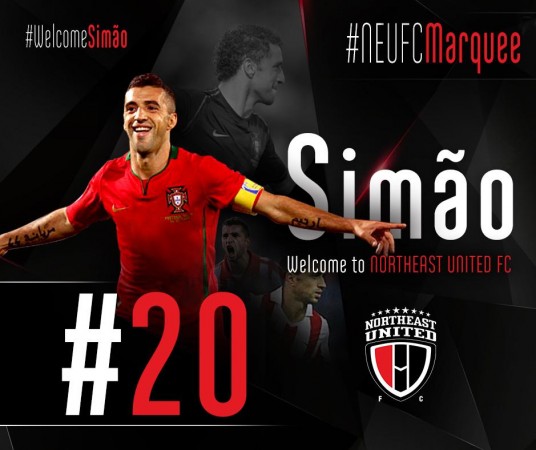 Former Portugal international and one-time Portuguese league winner with Benfica, Simao Sabrosa, was revealed as the marquee player for Indian Super League franchise North-East United FC today.
The ISL side, which goes by the tagline – '8 States. 1 United' – announced the news through their twitter feed.
"The wait is over.Lets give the warmest welcome to our #NEUFCMarquee @simao20sabrosa :-) #WelcomeSimao #NEUFC #HeroISL", the Assam-based side tweeted.
The 35-year-old attacking midfielder, who has plied his trade in the left wing for the majority of his club and international career, takes over from Spanish left-back Joan Capdevilla as the marquee player of the ISL side for the second edition.
Over an international career spanning 12 years, Simao has earned a total of 85 caps for Portugal, and also got on the scoresheet 22 times. He also has the distinction of rubbing shoulders with Portugal greats Luis Figo and Cristiano Ronaldo, during international days.
The Highlanders have signed the player for free after he was released from Espanyol last summer. Before plying his trade with the Spanish side for two seasons, Simao played for five clubs, which included the likes of heavyweights Barcelona, Benfica, and Atletico Madrid.
Among major club honours, Simao, who was at one time heavily linked with a move to Liverpool, lifted the Portuguese league with Benfica in 2004-05 and also the UEFA Europa League with Atletico in 2009-10.
The twitteratti has been abuzz following the news from the North-East side, and the fans have poured their responses, which have mostly been positive:
"Olá #WelComeSimao"
"Great signing! His La-Liga experience will benefit our team."
"A warm welcome to our incredible India☺☺"
The team, owned by Bollywood actor John Abraham, and managed by New Zealander Ricki Herbert, open their campaign in this edition of the ISL on 6 October against last year's finalists Kerala Blasters.
North-East United FC also announced that Spaniard Miguel Garcia and Zambian international Kondwani Mtonga have been retained by the side for the ISL 2015.
The duo have been influential for Herbert's side in the previous edition of the lucrative league, although NEUFC finished as the rockbottom side.