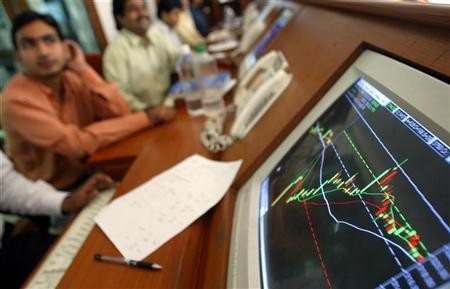 The Sensex and Nifty traded lower on Thursday and the sale of NSE equity futures at discounted price has worried the traders about the decline of broader Nifty index in the near term.
At 12.15 pm, BSE Sensex fell 19.98 points or 0.08 percent recording at 26127.35 points, while the broader Nifty plunged 8.10 points or 0.10 percent lower at 7787.65 points. On Wednesday, Nifty closed all-time high at 0.36 percent and Sensex ended 0.47 percent.
But, the Indian rupee opened 9 paise higher on Thursday at 60.01 per dollar against its previous closing at 60.10 a dollar. The rupee gained its strongest level in a week and half on Wednesday as continued foreign fund inflows into the domestic share and debt markets aided while gains and other Asian units also helped.
"I believe 60.05 is going to be a crucial support for the USD/INR. It needs to be seen if this level can be broken, which can then take it to 59.77 or even 59.55," Reuters quoted Deepak Agarwal, a foreign exchange trader with First Rand Bank.
"State-run banks are there at all levels to buy dollars, so don't expect very sharp gains. The next major event for the market now is only the policy review," he added.
The next major event for financial markets in India is the central bank's monetary policy review on 5 August.
At 12:30 pm, half of Indian stock indices declined, while rest six were recorded higher. Metals, IT, FMCG, Capital Goods, Banking and Realty stocks were witnessed trading higher.
Cairn India shares fell as much as 5.59 percent at ₹326.25, after the company announced a $1.25 billion loan facility to parent Vedanta Group, of which $800 million was disbursed in first quarter.
RBI on Wednesday accepted all 59 bids for ₹221.78 billion at its one day repo auction, through which it injects liquidity into the banking system.
Insurance stocks surged after the cabinet approved foreign direct investment (FDI) limit in insurance sector. The FDI hike to 49 percent from 26 percent had been proposed in the federal budget last month.
Reliance Capital limited gained 4.09 percent, Max India rose 2.29 percent, Bajaj Finserv rose 0.95 percent and Exide industries advanced 0.03 percent at 1 pm on Thursday.