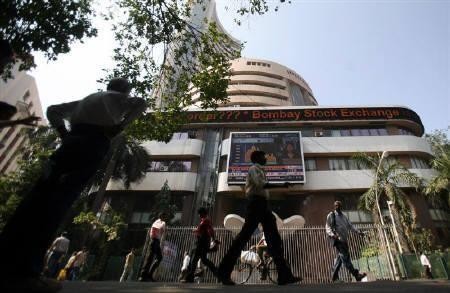 Indian stock markets advanced on Monday, snapping their longest losing streak in four months, as declines in capital goods and power sectors were offset by gains in metal and banking shares.
The benchmark BSE Sensex gained 0.10 percent, or 18.24 points, to 19,182.26. The 50 share NSE Nifty rose 0.13 percent, or 7.50 points, to 5,685.40.
Markets opened on a flat note Monday after plunging in the last eight sessions. State-owned Bharat Heavy Electricals (BHEL) shares plunged following weaker-than-expected quarterly earnings.
BHEL shares slumped 19 percent as the company's net profit declined for the fourth consecutive quarter. BHEL on Saturday announced that its first quarter net profit tumbled to 465.4 crore rupees, weighed down by lower sales in its power segment, from 920.9 crore rupees in the same quarter last year and also widely missed Reuters forecast for a net profit of 750 crore rupees.
Coal India shares gained 3.36 percent despite the company announced that its first quarter net profit declined 16.5 percent to 3,731 crore rupees compared to same period last year.
Among the 13 BSE sectoral indices, metal sector surged 2.74 percent and banking sector gained 0.92 while capital goods sector plunged 3.65 percent and power sector declined 1.09 percent.
In the Midcap space, Financial Tech rallied 30.81 percent and JP POWER climbed 13.24 percent, while IRB Infra gained 9.82 percent.
The overall market breadth is negative with 1122 declines against 1083 advanced on the BSE.
Meanwhile, Asian stock markets were mixed Monday following weaker-than-expected US jobs data. Data released by the US Labor Department on Friday showed that the economy added fewer-than-expected 162,000 nonfarm payroll jobs in July while the unemployment rate declined to four year low of 7.4 percent.
Chinese shares advanced after an official data showed that China's non-manufacturing sector growth picked up slightly in July. Japan's benchmark Nikkei 225 declined 1.44 percent and South Korea's KOSPI fell 0.37 percent, while Hong Kong's Hang Seng gained 0.14 percent and China's Shanghai Composite advanced 1.04 percent.