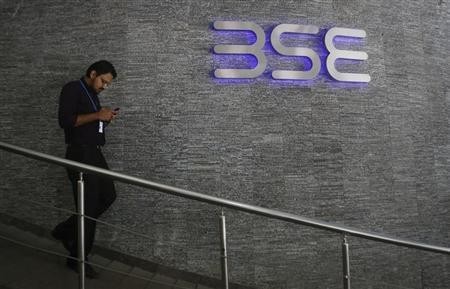 Indian stock markets declined for the first time in six days on Thursday, weighed down by weakness in metal, auto and banking sector shares.
The benchmark BSE Sensex plunged 1.08 percent, or 215.57 points, to 19,781.88. The 50 share NSE Nifty fell 1.06 percent, or 62.45 points, to 5,850.70.
Markets opened on a positive note, tracking mixed cues from Asian peers and Wall Street overnight. However, benchmark indices declined afterward on profit-taking. Sensex and Nifty snapped five day winning streak and lost more than 1 percent in afternoon trade as fresh selling in banking, auto, metal and energy sector shares weighed.
Both sensex and Nifty rallied more than 10 percent in the last five sessions as the rupee has recovered nearly 6 percent per cent in the last five sessions, its longest winning streak in a year, after Raghuram Rajan, RBI's new governor, announced a spate of measures to stem the currency slide and to bolster the financial industry.
All the 13 BSE sectoral indices ended with losses except realty and FMCG. Metal sector plunged 2.49 percent and banking sector fell 1.81, while auto sector declined 1.90 and energy sector plunged 2 percent.
The overall market breadth is negative with 1169 advances against 1180 declines on the BSE.
Meanwhile, Asian stock markets pared earlier gains as concerns that US central bank may begin to taper its $85 billion-a-month bond-buying program weighed on the investor sentiment.
"Investors are skittish as global recovery remains on an uneven path. Investors are waiting for more positive catalysts from economic data. They are looking ahead for the outcome of the Fed meeting and the Syrian dialogue," Desmond Chua, at analyst at brokerage CMC Markets in Singapore, said in a telephone interview to Bloomberg.
Japan's benchmark Nikkei 225 declined 0.26 percent and South Korea's KOSPI gained 0.01 percent, while China's Shanghai Composite rose 0.07 percent and Hong Kong's Hang Seng advanced 0.64 percent.