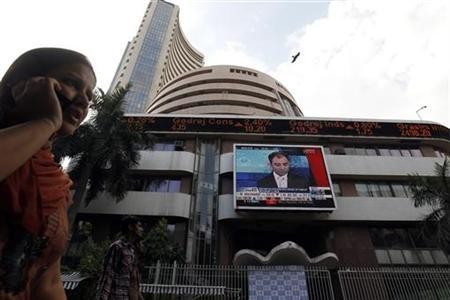 Indian stock markets ended lower on Wednesday, snapping BSE Sensex's five-day winning streak after the Reserve Bank of India's (RBI) fresh tightening measures in the banking system to arrest rupee fall weighed on financial sector shares.
The benchmark BSE Sensex declined 0.91 percent or 185.67 points to 20,116.46. The 50 share NSE Nifty plunged 1.41 percent or 85.70 points to 5,992.10.
Markets opened on a negative note after the RBI on late Tuesday cut the daily funds available from it to individual bankers under the liquidity adjustment facility to 0.5 percent and raised the daily balance requirement for the cash reserve ratio.
"Profitability of lenders will get hit due to compression in net interest margins, lower economic growth and rising bad loans. Tighter liquidity will impact growth further," Aneesh Srivastava, chief investment officer at IDBI Federal Life Insurance Co. Mumbai, said in a phone interview to Bloomberg.
All the 13 BSE sectoral indices declined except IT and technology. Consumer durables sector plunged 3.68 percent and Capital goods fell 3.01 percent while metal sector slipped 2.04 percent.
Banking sector tumbled 4.46 percent to 12,258.05, led by Yes bank, Bank of India and Indusind Bank. Yes bank tumbled 13.11 percent and Bank of India plunged 8.96 percent while Canara Bank declined 8.25 percent.
In the Midcap space, Federal Bank tumbled 7.90 percent and Mahindra & Mahindra Finance fell 6.28 percent while Oriental Bank slipped 6.85 percent.
The overall market breadth is negative with 1519 declines against 780 advanced on the BSE.
Mixed cues from Asian peers also added to the downward movement. Asian markets ended mixed after a private survey showed that China's manufacturing activity slowed to a 11-month low in July. The HSBC Flash Purchasing Managers Index (PMI), a measure of the nation-wide manufacturing, declined to 47.7 in July from 48.2 in June. The index stayed below 50-level for the third straight month which indicates signifying contracting economic activity.
China's Shanghai Composite declined 0.52 percent and Japan's benchmark Nikkei 225 fell 0.32 percent while Hong Kong's Hang Seng gained 0.24 percent South Korea's KOSPI advanced 0.42 percent.