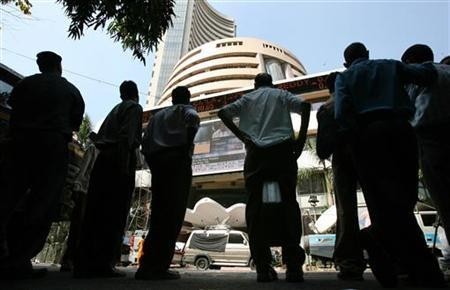 Indian stocks markets are expected to advance on Thursday amid a firm trend in global markets.
Indian stock markets pared earlier losses to end flat on Wednesday as gains in IT and metal sectors were offset by declines in consumer durables and PSU sector shares. The benchmark BSE Sensex gained 0.16 and the 50 share NSE Nifty fell 0.05 percent.
The rupee on Tuesday plunged 3.7 percent or 256 paise, its biggest single day decline in nearly 18 years, to a new historic low of 68.85 against dollar in intraday trade at the interbank foreign exchange market before closing the day at a record closing low of 68.80.
Indian domestic currency has plunged more than 20 percent in the last four months on concerns that the government will struggle to fund its record high current account gap if global liquidity tightens.
Asian markets were trading higher on Thursday, tracking positive cues from Wall Street overnight. Japan's benchmark Nikkei 225 gained 0.58 percent and China's Shanghai Composite rose 0.10 percent, while Hong Kong's Hang Seng advanced 0.41 percent and South Korea's KOSPI surged 1.17 percent.
"I suspect we will see some stabilization today, but there's still a lot of caution because the problem is not just Syria. There's a combination of fears that the U.S. Federal Reserve will start paring monetary stimulus and at the same time underlying fundamentals in Asian countries are looking less attractive than they have for many years," Shane Oliver, Sydney-based head of investment strategy at AMP Capital Investors Ltd., which oversees $131 billion, told Bloomberg.
US stock markets advanced on Wednesday, as energy shares rallied after oil prices surged to a more-than-two year high of $110 a barrel on concerns over possible US action against Syria. The Dow Jones Industrial Average gained 0.33 percent, the S&P 500 Index was up 0.27 percent and the Nasdaq Composite Index advanced 0.41 percent.