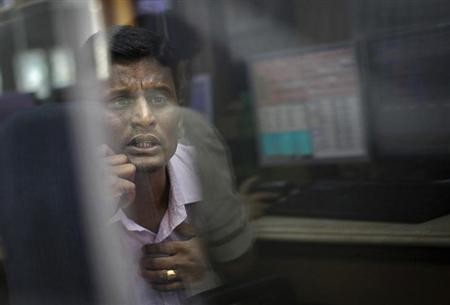 Indian stock markets declined for the sixth straight session, its longest losing streak in nearly four months, on Wednesday as gains in tech and metal sectors were offset by declines in realty and banking sectors.
The benchmark BSE Sensex declined 0.01 percent, or 2.64 points, to 19,345.70. The 50 share NSE Nifty fell 0.26 percent, or 14.70 points, to 5,740.35.
Markets opened on a negative note, tracking mixed cues from Asian peers. Growth concerns and weak rupee continued to weigh on markets. The Reserve Bank of India (RBI) on Tuesday lowered India's growth forecast for fiscal year to 5.5 percent, down from its prior estimate of 5.7 percent provided in May.
Among the 13 BSE sectoral indices, realty sector declined 2.05 percent and FMCG sector plunged 2.20 percent, while tech sector gained 2.37 percent and metal sector rose 2.77 percent.
Banking sector shares extend slide on disappointment by the central bank policy. Banking sector plunged 2.01 percent to 11,421.56. Yes Bank tumbled 7.02 percent and Axis Bank plunged 5.34 percent while HDFC Bank declined 2.49 percent.
Bharti Airtel Ltd. Surged more than 7 percent after reporting better-than-expected first quarter net profit, while ICICI Bank fell 1.7 percent on higher provisions.
In the Midcap space, Essar Oil tumbled 9.96 percent and Havells India plunged 8.19 percent while GMR Infra slipped 7.19 percent.
The overall market breadth is negative with 1379 declines against 853 advanced on the BSE.
Meanwhile, Asian stock markets mostly declined on Wednesday as investors opted for caution ahead of the US Federal Reserve's monetary policy announcement due later in the day. Japan's benchmark Nikkei 225 plunged 1.45 percent and Hong Kong's Hang Seng declined 0.32 percent, while China's Shanghai Composite gained 0.19 percent and South Korea's KOSPI fell 0.16 percent.