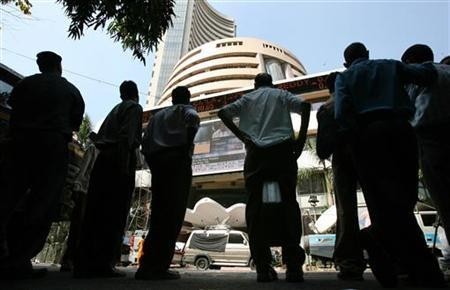 Indian stock markets surged for the third straight session on Monday, with the Nifty closing above the 5550 level, helped by gains in metal, FMCG and energy sector shares.
The benchmark BSE Sensex surged 1.43 percent or 266.41 points to 18,886.13. The 50 share NSE Nifty gained 1.44 percent or 78.95 points to 5,550.75.
Markets opened on a high note, tracking positive cues from Asian peers. Both the benchmark indices extended winning streak for a third straight session despite disappointing economic growth. Official data on late Friday showed that India's gross domestic product (GDP) grew at an annual rate of 4.4 percent in the first quarter, its slowest pace in four years, down from 5.4 percent in the same period last year, and also fell short of Bloomberg's estimation for a 4.7 percent growth.
"The biggest relief is that there's no strike on Syria and oil has cooled. The long-term picture hasn't changed much, but we are seeing some buying at lower levels," Kaushik Dani, a fund manager at Peerless Mutual Fund, which has about $685 million in assets, told Bloomberg by phone from Mumbai.
Meanwhile, the Indian rupee erased all losses to trade higher against the US dollar. The rupee surged 1.04 percent or 69 paise to 65.906 against the dollar by the late afternoon trade. The rupee had hit all-time historic low of 68.85 last Wednesday.
All the 13 BSE sectoral indices ended with gains. Metal sector surged 3.16 percent and FMCG sector gained 3.10 percent, while realty sector and energy sector advanced 3 percent and 2.55 percent respectively.
The overall market breadth is positive with 1400 advanced against 851 declines on the BSE.
Meanwhile, Asian stock markets mostly ended higher on Monday as better-than-expected China manufacturing data buoyed sentiment. Hong Kong's Hang Seng climbed 2.04 percent and Japan's benchmark Nikkei 225 surged 1.37 percent, while China's Shanghai Composite ended flat and South Korea's KOSPI declined 0.08 percent.
Data released by the China Federation of Logistics and Purchasing showed that manufacturing activity in the world's second largest economy expanded at the fastest pace in more than a year last month. China's official Purchasing Managers' Index (PMI) rose to 51.0 in August, its highest level since April 2012, from 50.3 in July and also topped Reuters estimation for a reading of 50.6.