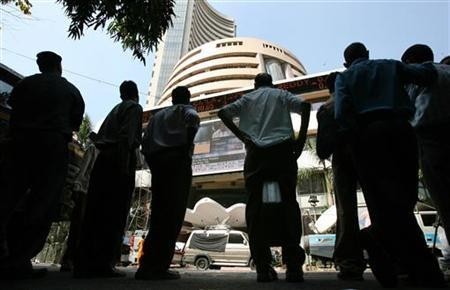 Indian stocks markets are expected to slightly recover on Monday after tumbling in the previous session.
Indian markets slumped on Friday, sending benchmark indices below to their psychological levels, as sentiment was weighed down by the weak Indian rupee which has hit a new all-time low against the US dollar during market trading hours.
The benchmark BSE Sensex slumped 3.97 percent, or 769.41 points, to 18,598.18. The 50 share NSE Nifty tumbled 4.08 percent, or 234.45 points, to 5,507.85.
The rupee plunged to a record low of 62.03 on Friday as central banks' recent measures to limit foreign-currency outflows from local companies and residents were seen as unlikely to prop up the currency. Fears that the government will struggle to fund its record high current account gap if global liquidity tightens also added to the downward move.
Asian stock markets declined on Monday, tracking negative cues from Wall Street on Friday as uncertainty about the Fed's tapering plan continued to weigh on the sentiment. Japan's benchmark Nikkei 225 declined 0.20 percent and China's Shanghai Composite fell 0.35 percent, while Hong Kong's Hang Seng slipped 0.07 percent and South Korea's KOSPI declined 0.22 percent.
"The market's going to be watching the FOMC minutes this week to see if there's any more indication in regards to potential of tapering in September, which is what we're currently predicting. There are still some concerns that a big move in QE will be disruptive," Martin Lakos, a Sydney-based director at Macquarie Private Wealth, told Bloomberg TV.
US stock markets declined on Friday, with the Dow Jones Industrial Average recording its biggest weekly slide in more than a year, on concerns that the US Federal Reserve may start scaling back its asset buying program as soon as next month.
The Dow Jones Industrial Average declined 0.20 percent, the S&P 500 Index was down 0.33 percent and the Nasdaq Composite Index fell 0.09 percent.