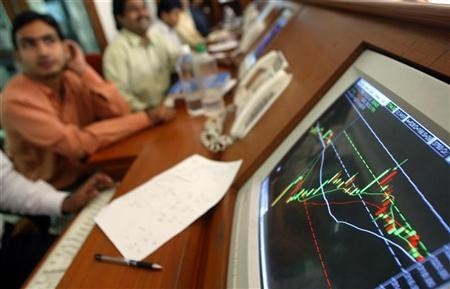 Indian stock markets are expected to recover on Thursday after plunging in the last six session, the longest losing streak in four months.
BSE Sensex had declined more than 5 percent and the 50-share NSE Nifty lost more than 4.5 percent in the last six sessions as financial shares tumbled on disappointment by the central bank policy.
"The index is expected to consolidate in a 100 point range say about 5680-5780 and once consolidation is done we should resume our downtrend. The big chart for me is the rupee chart which after a month's correction has now again on the verge of breaking out and this breakout will lead to levels around 64-65 zone," Ashwani Gujral, Fund Manager, Ashwanigujral.com told in an interview with Economic Times.
Meanwhile, Asian markets mostly advanced on Thursday after official data showed that China's manufacturing activity unexpectedly strengthened last month. Japan's benchmark Nikkei 225 surged 1.16 percent and China's Shanghai Composite advanced 1.20 percent, while Hong Kong's Hang Seng gained 1.12 percent and South Korea's KOSPI rose 0.52 percent.
US stock markets ended on a flat note Wednesday after the Federal Reserve said it would keep buying $85 billion per month in Treasury and mortgage securities in an effort to strengthen the world's largest economy.
The Dow Jones Industrial Average declined 0.14 percent, the S&P 500 Index was down 0.01 percent and the Nasdaq Composite Index gained 0.27 percent.
Meanwhile, official data on Tuesday showed that showed the US economy grew at an annualized 1.7 percent in the April-June quarter, down from 1.8 percent growth registered in the first three months of the year.