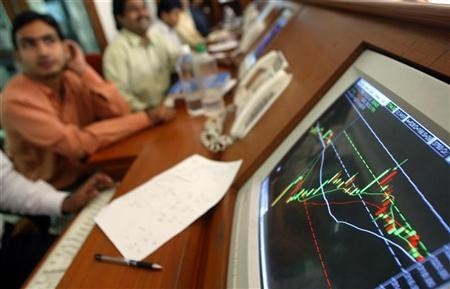 Indian stock markets are expected to decline for a second straight session on Wednesday amid weak trend in global markets.
Indian markets tumbled on Tuesday, with the BSE Sensex plunging over 600 points and NSE Nifty slipping below its psychological 5300 level, as the rupee plunged to a new record low after the Indian Parliament approved a food security bill to provide five kilograms of heavily subsidised food grains per month to two-thirds of the country's population at an estimated cost of about $19.5 billion.
The rupee on Tuesday plunged to a new historic low of 66.30 against dollar in intraday trade at the interbank foreign exchange market before closing the day at a record closing low of 66.24.
Asian markets were trading lower on Wednesday, tracking negative cues from Wall Street overnight, on concerns surrounding potential US military intervention in Syria.
"(The Syrian issue) is adding a layer of nervousness on top of the debate of U.S. tapering which is having a very big impact on carry trade globally and having a very big impact on emerging markets," a senior trader at a foreign bank in Tokyo told to Reuters.
Japan's benchmark Nikkei 225 plunged 1.96 percent and China's Shanghai Composite declined 0.57 percent, while Hong Kong's Hang Seng fell 1.56 percent and South Korea's KOSPI slipped 0.41 percent.
US stock markets ended sharply lower on Tuesday, with the Dow declining to a two-month closing low, as sentiment was weighed down by concerns over possible US action against Syria. The Dow Jones Industrial Average declined 1.14 percent, the S&P 500 Index was down 1.59 percent and the Nasdaq Composite Index plunged 2.16 percent.
Meanwhile, a consumer confidence report from Conference Board on Tuesday showed that US consumers' confidence unexpectedly rose to 85.1 in August from a revised 81 in the prior month, topping economists' expectations of 79.