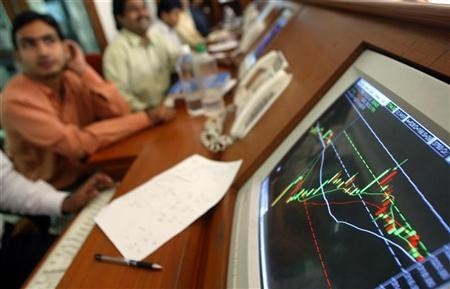 Indian stock markets are expected to gain for a second straight session on Friday amid firm trend in global markets, while the Indian rupee also recovered from a record low against the dollar.
Indian stock markets surged on Thursday as rally in the metal and energy sector shares helped Sensex to close above 18,000 level and Nifty to regain its psychological 5400 level. The Indian rupee recovered from its new historic low of 65.56 against the US dollar to end at 64.55.
Asian markets advanced on Friday, tracking positive cues from Wall Street overnight. Japan's benchmark Nikkei 225 surged 2.46 percent and China's Shanghai Composite advanced 0.33 percent, while Hong Kong's Hang Seng rose 0.63 percent and South Korea's KOSPI climbed 1.14 percent
.
US stock markets ended with gains on Thursday as encouraging global manufacturing surveys and better-than-expected jobless claims data buoyed sentiment. Purchasing managers surveys from China, euro zone and US showed an across-the-board improvement in manufacturing business conditions in August.
The Dow Jones Industrial Average gained 0.44 percent, the S&P 500 Index was up 0.86 percent and the Nasdaq Composite Index advanced 1.08 percent.
"The employment numbers were encouraging and showed a continuation of slow growth in employment. There are signs of stabilization in China and improvement in Europe, which could help U.S. multinationals in the long run," Paul Mangus, head of equity strategy and research for Wells Fargo Private Bank in Charlotte, North Carolina, said in a telephone interview to Bloomberg.
Meanwhile, data released by the US Department of Labor showed that initial jobless claims report, which measures the number of individuals who filed for unemployment insurance for the first time last week, rose to 336,000 for the week ending 17 August, up from upwardly revised figure of 323,000 recorded in the last week, but that figure was slightly better than analysts' estimation of 337,000.