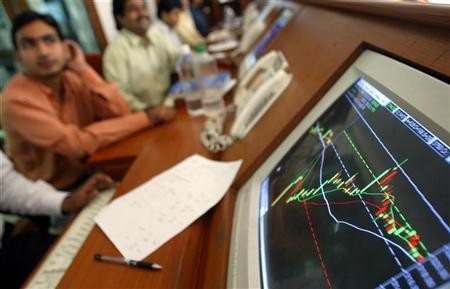 Indian stock markets are expected to decline for a sixth straight session on Wednesday after the central bank left its policy rates unchanged in its first quarter monetary policy review on Tuesday.
The BSE Sensex and NSE Nifty ended lower for the fifth consecutive session on Tuesday after the Reserve Bank of India (RBI) kept its policy repo rate and cash reserve ratio (CRR) unchanged and cut its growth forecast for fiscal year to 5.5 percent, down from its prior estimate of 5.7 percent provided in May.
"There was expectation that there will be a partial rollback of the liquidity tightening measures. That didn't come through, plus any rate cut for the next three months at least is ruled out. That's spooking investors. A forecast for slower growth is weakening the rupee. A weak rupee increases a sell-off by foreign investors and inflation risks," Alex Mathews, head of research at Geojit BNP Paribas Financial Services Ltd., told Bloomberg by phone.
Meanwhile, Asian markets were trading mixed on Wednesday. Japan's benchmark Nikkei 225 declined 0.55 percent and South Korea's KOSPI fell 0.11 percent, while China's Shanghai Composite rose 0.71 percent and Hong Kong's Hang Seng advanced 0.26 percent.
US stock markets ended on a mixed note on Tuesday, as investors opted for caution ahead of Federal Reserve's meeting that could signal when the US central bank may begin to taper its $85 billion-a-month bond-buying program. The Dow Jones Industrial Average declined 0.01 percent, the S&P 500 Index was up 0.04 percent and the Nasdaq Composite Index gained 0.48 percent.
Meanwhile, data released by Conference Board on Tuesday showed that confidence among US consumers declined to 80.3 in July from a revised five-year high of 82.1 reported in the previous month.