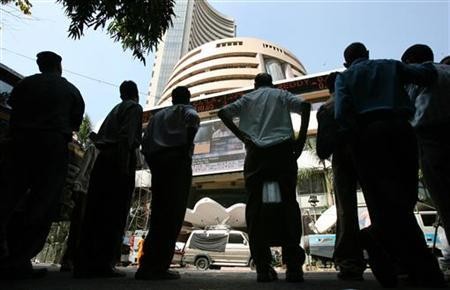 Indian stock markets ended lower for the third straight session on Friday, weighed down by weakness in metal, realty, PSU and banking sector shares.
The benchmark BSE Sensex declined 0.28 percent, or 54.70 points, to 19,750.06. The 50 share NSE Nifty slipped 0.28 percent, or 16.50 points, to 5,891.00.
Markets opened on a positive note after plunging in the last two sessions but later turned negative in the afternoon trade as metal, banking, PSU and realty sector shares experienced selling pressure.
Among the 13 BSE sectoral indices, metal, realty, PSU and banking sectors plunged more than 1 percent while healthcare, FMCG and consumer durables ended on a positive note.
Banking sector declined 1.39 percent to 11,995.71 ahead of the RBI review next week. Canara Bank plunged 8.60 percent and Union bank declined 8.10 percent while PNB declined 5.76 percent.
Jet Airways shares climbed 17.55 percent on news that India's Foreign Investment Promotion Board (FIPB) is likely to approve a planned stake sale to Etihad Airways on Monday.
In the Midcap space, Financial Tech tumbled 10.42 percent and Syndicate Bank plunged 8.53 percent, while Dish TV India slipped 8.24 percent.
The overall market breadth is negative with 1401 declines against 862 advanced on the BSE.
Meanwhile, Asian markets were mixed on Friday, with Japan's Nikkei plunging nearly 3 percent as yen's strength against the US dollar weighed on exporter shares. The dollar declined 0.6 percent to a two-week low of 98.615 yen.
"We are seeing the yen strengthening. There is also the summer fatigue. People are going on holiday and they are closing positions," a Tokyo-based trader told Reuters.
Japan's benchmark Nikkei 225 plunged 2.97 percent and China's Shanghai Composite fell 0.51 percent, while Hong Kong's Hang Seng gained 0.31 percent South Korea's KOSPI advanced 0.06 percent