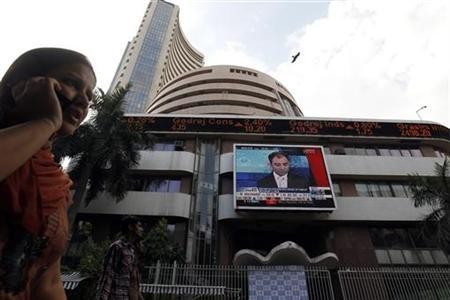 Indian stock markets ended with gains for the third straight session on Monday, helped by gains in power, capital goods and healthcare sector shares.
The benchmark BSE Sensex advanced 0.21 percent or 38.69 points to 18,539.13. The 50 share NSE Nifty gained 0.09 percent or 4.75 points to 5,476.50.
Markets opened on a high note, tracking positive cues from Asian peers. Both the benchmark indices extended winning streak for a third straight session on hopes that the government would announce some measures to attract capital flows to fund the record high current account deficit. The finance ministry on Saturday said that measures to attract capital flows can be expected within a week.
Meanwhile, the Indian rupee declined 0.06 percent to 64.10 against the US dollar in late afternoon trade. It had hit a new historic low of 65.56 on Thursday.
Larsen & Toubro Ltd advanced 0.79 percent after the company stock was upgraded to "overweight" rating from an "equal weight" rating at Barclays.
Among the 13 BSE sectoral indices, power sector surged 1.56 percent and capital goods sector rose 1.25 percent, while banking sector declined 1.04 percent and energy sector fell 0.43 percent.
The overall market breadth is positive with 1293 advances against 995 declines on the BSE.
Meanwhile, Asian stock markets mostly advanced on Monday as weaker-than-expected US new home sales data slightly eased fears that the Fed may start scaling back its asset buying program as soon as next month.
"Any disappointing economic reading out of the U.S. will be interpreted as a sign that perhaps the economy is not ready for tapering in September and perhaps the Fed may hold off. It's all about picking stocks with right fundamentals," Stan Shamu, a strategist at IG Ltd. in Melbourne, told Bloomberg.
China's Shanghai Composite surged 1.90 percent and Hong Kong's Hang Seng gained 0.95 percent, while Japan's benchmark Nikkei 225 declined 0.18 percent and South Korea's KOSPI rose 0.95 percent.