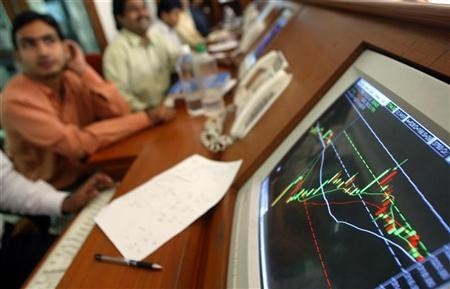 Indian stock markets ended higher for the fourth straight session on Tuesday, led by gains from consumer durables, realty and banking sector shares.
The benchmark BSE Sensex gained 0.71 percent or 143.01 points to 20,302.13. The 50 share NSE Nifty advanced 0.76 percent or 46 points to 6,077.80.
The markets opened on a firm note on the back of positive cues from Asian markets as sentiment was buoyed after China Premier Li Keqiang said that growth in the world' second largest economy will not slip below 7 percent while disappointing U.S. housing data eased fears that the Federal Reserve will begin to scale back its massive asset-purchase program in the coming months.
"Tapering is less of a threat to the market than many had feared a few months ago," Shane Oliver, Sydney-based head of investment strategy at AMP Capital Investors Ltd., which has about $130 billion under management, told Bloomberg. "By year-end, we'll be looking at indexes being quite a bit higher than they are at the moment."
Hong Kong's Hang Seng climbed 2.23 percent and China's Shanghai Composite surged 1.95 percent while South Korea's KOSPI advanced 1.27 percent and Japan's benchmark Nikkei 225 rose 0.82 percent.
Meanwhile, the Reserve bank of India's (RBI) fresh restrictions on gold imports to reduce the current account deficit also added to the sentiment.
All the 13 BSE sectoral indices ended with gains. Consumer durable goods sector climbed 4.07 percent and realty sector gained 1.31 percent.
Banking sector gained 1.19 percent to 12,816.61, led by BOB, Yes bank and SBI. BOB rallied 5.21 percent and Yes bank surged 3.52 percent while SBI advanced 1.98 percent.
In the Midcap space, PC Jeweller climbed 19.97 percent and Shoppers Stop jumped 8.75 percent while Financial Tech surged 7.19 percent.
The overall market breadth is neutral with 1150 advances against 1150 declines on the BSE.