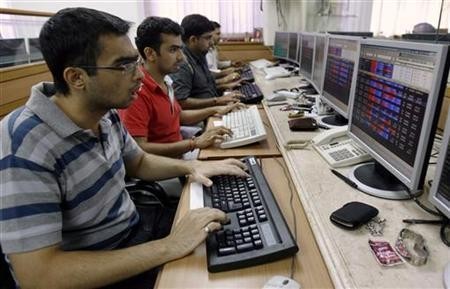 Indian stock markets pared earlier losses to end flat on Wednesday as gains in IT and metal sectors were upset by declines in consumer durables and PSU sector shares.
The benchmark BSE Sensex gained 0.16 percent, or 28.07 points, to 17,996.15. The 50 share NSE Nifty fell 0.05 percent, or 2.45 points, to 5,285.00.
Markets opened on a weak note, tracking negative cues from Asian peers and Wall Street overnight on concerns surrounding potential US military intervention in Syria. Both Sensex and Nifty plunged more than 2 percent in the morning trade as weak domestic currency and a broad selloff in global markets dampened sentiment.
However, markets later recovered from day's low during late afternoon trade. Gains in IT and metal sector shares helped Sensex to end on a positive note.
The Indian rupee extended its slide against the US dollar on Wednesday after recording a new historical closing low in the previous session. Rupee plunged to a new record low of 68.75 by mid-morning trade, down more than 2.6 percent from its record closing low of 66.24 Tuesday.
"It is just impossible to put any realistic value to the rupee anymore. Let's see what the authorities do, but if the government can come out with some really big currency swap arrangement with some countries, that can be a strong positive," Uday Bhatt, a forex dealer with UCO Bank, told Reuters.
Among the 13 sectoral indices, consumer durables, PSU and banking sector shares experienced selling pressure. PSU sector plunged 2.22 percent and consumer durables sector slumped 2.97 percent, while banking sector declined 1.28 percent and IT sector surged 2.68 percent.
The overall market breadth is negative with 867 advances against 1341 declines on the BSE.
Meanwhile, Asian markets mostly ended lower on Wednesday as fears over a possible U.S.-led military strike against the Syrian government dampened investor sentiment.
Japan's Nikkei plunged 1.51 percent and Hong Kong's Hang Seng fell 1.60 percent, while South Korea's KOSPI slipped 0.07 percent and China's Shanghai Composite declined 0.11 percent.