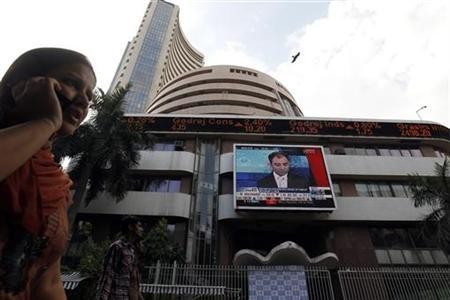 Indian stocks markets ended lower for a straight second session on Wednesday as weak rupee and a broad selloff in global markets dampened sentiment.
The benchmark BSE Sensex declined 0.36 percent, or 68.16 points, to 18,664.88. The 50 share NSE Nifty fell 0.53 percent, or 29.25 points, to 5,513.00.
Markets opened on a weak note, tracking negative cues from Asian peers and Wall Street overnight. Markets recovered from intra-day losses and entered into positive territory during late afternoon trade, helped by gains metal, realty and oil & gas sectors. However, the gains were offset by declines in FMCG and auto sector shares and sent the bench mark indices back into the negative territory.
Among the 13 BSE sectoral indices, metal sector surged 3.31 percent and realty sector climbed 5.04 percent while IT sector plunged 1.60 percent and FMCG fell 1.37 percent.
The Indian rupee extended its slide against the US dollar on Wednesday. Rupee plunged to 61.47 against the dollar before recovering to 60.96 levels. Rupee plunged to a record low of 61.80 on Tuesday before recovering on central bank buying late in the day that took it back to 60.77 levels by the close.
The overall market breadth is positive with 1247 advanced against 1043 declines on the BSE.
Meanwhile, Asian stock markets declined to four-week low on Wednesday as renewed fears about the Fed's tapering plan weighed on the sentiment. Comments from Atlanta Fed president Dennis Lockhart and Chicago Fed President Charles Evans on Tuesday raised concerns that the central bank may start scaling back its asset buying program as soon as next month and sparked a sell off in global markets.
"We're going to get tapering, it's really a question of when and not if and that's why we've seen a decline in (equity) markets," Michael Hewson, market analyst at CMC Markets, told Reuters.
Japan's benchmark Nikkei 225 tumbled 4 percent and China's Shanghai Composite fell 0.67 percent, while Hong Kong's Hang Seng plunged 1.53 percent and South Korea's KOSPI fell 1.48 percent.