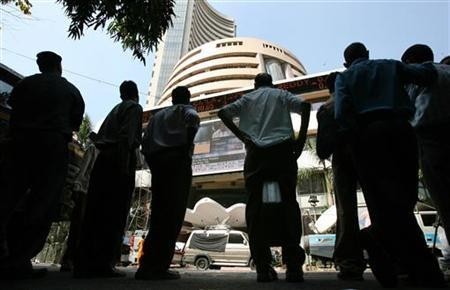 Indian stock markets declined for the fourth straight session on Monday as investors opted for caution ahead of the Reserve bank of India's (RBI) policy review on Tuesday.
The benchmark BSE Sensex declined 0.81 percent, or 170.16 points, to 19,578.03. The 50 share NSE Nifty fell 0.95 percent, or 56.15 points, to 5,830.05.
Markets opened on a negative note, tracking weak trend in other Asian peers. Market participants opted for caution as the Indian central is scheduled to review the monetary policy on Tuesday and will set the tone for the week in Indian stock markets.
All the 13 BSE sectoral indices declined except IT, technology and auto. FMCG, PSU, metal and realty sectors experienced selling pressure while baking sector shares extended slide for fourth day ahead of RBI meeting. FMCG sector declined 2.67 percent and PSU declined 1.80 percent while metal sector slipped 1.80 percent.
In the Midcap space, JK Cement tumbled 10.70 percent and Indian Bank plunged 7.40 percent while Bombay Dyeing declined 7.10 percent.
Ranbaxy declined 1.90 percent despite news that the company stock was upgraded to "buy" rating from "sell" at UBS.
The overall market breadth is negative with 1399 declines against 833 advanced on the BSE.
Weak trend in other Asian peers also added to the downward movement. Asian markets declined on Monday as stronger yen weighed on the exporter companies' shares in Tokyo while slower profit growth at Chinese industrial companies raised growth concerns in the world's second largest economy. Official data showed that Chinese industrial profits rose 6.3 percent on an annual basis in June, down from 15.5 percent rise in May.
"A sense of caution is looming in the market, especially because investors are worried about a slowdown in the Chinese economy. And when they see a risk in Asia, they tend to buy the yen, and the Japanese market is hit by that," Kyoya Okazawa, head of global equities at BNP Paribas, told Reuters.
Japan's benchmark Nikkei 225 tumbled 3.32 percent and China's Shanghai Composite plunged 1.72 percent, while Hong Kong's Hang Seng declined 0.54 percent and South Korea's KOSPI slipped 0.57 percent.