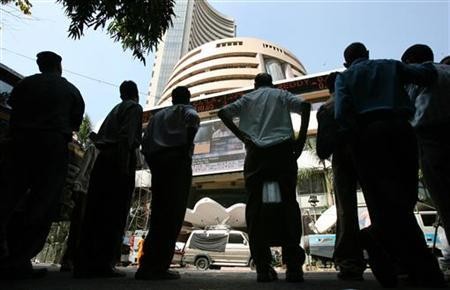 Indian stock markets fell Monday as gains in auto and realty sectors were offset by decline in technology and IT sector shares.
The 30-share BSE Sensex declined 0.22 percent or 42.98 points to 19274.27 and the 50-share NSE Nifty fell 0.22 percent or 12.75 points to 5866.85.
Markets opened on a flat note and turned lower as investors opted for caution ahead of the Reserve Bank of India's (RBI) policy review meeting on Tuesday. The central bank has not lowered interest rates since April and is likely to stay put this time as well, due to improvement in industrial production and persistent high inflation.
Indian government, meanwhile, slashed its official growth forecast to between 5.7 and 5.9 percent for this fiscal year, well below the 7.6 percent estimate the government had given at the time of presenting its annual budget in March.
Among the sectoral indices, auto and realty sectors gained 0.83 and 0.74 percent, respectively, while IT and technology sectors plunged 1.19 percent and 1.07 percent, respectively.
Maruti Suzuki India gained 1.74 percent and Mahindra & Mahindra Ltd advanced 0.95 percent while Oberoi Realty gained 2.51 percent and Indiabulls Real Estate advanced 1.77 percent.
Among IT sector stocks, TCS plunged 2.12 percent and Wipro declined 1.77 percent while Tech Mahindra fell 1.34 percent.
The overall market breadth was positive with 1471 advanced against 1180 declines. The BSE's Midcap Index gained 0.63 percent to 7043.10 and Smallcap Index advanced 0.53 percent to 7393.00. CNX midcap Index gained 0.34 percent and CNX IT plunged 1.04 percent.
Asian markets were trading mixed Monday with markets in Japan gaining sharply after the pro-stimulus Liberal Democratic Party's (LDP) led by Shinzo Abe won the elections with more than two-thirds of the 480 seats. Investors are hoping for LDP to announce stimulus measures that are much needed to revive the economic growth momentum of Japan.
Meanwhile, the U.S. House of Representatives Speaker John Boehner has offered to raise marginal tax rates on those earning $1 million or more. Although, this is well above President Obama's $250k threshold, it does suggest some progress toward compromise. The change of stand by the Republicans is seen as an indication of a solution soon, but a deal is yet to be finalised even as the deadline nears.