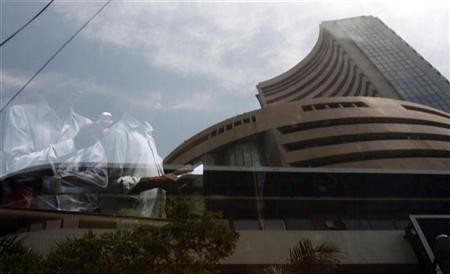 Indian stock markets were trading with gains in the afternoon session on Monday as gains in oil & gas and capital goods sectors offered support.
The 30-share BSE Sensex gained 0.16 percent or 31.45 points to 20,073.61 and the 50-share NSE Nifty advanced 0.08 percent or 4.75 points to 6,069.15.
Markets opened on a positive note and Sensex climbed nearly 100 points in early trade on back of a smart rally in Reliance Industries (RIL). The company's shares surged six percent and touched a 52-week high of ₹954.80 before coming back to ₹923.15 as it reported better-than-expected rise in third quarter net profit. Meanwhile, analysts at Goldman Sachs raised their price target on shares of RIL from ₹1,010 to ₹1,050 with a "buy" rating.
Among the sectoral indices, oil & gas and capital goods sectors surged 1.54 and 1.02 percent, respectively, while realty and auto sectors fell 1.09 percent and 0.48 percent, respectively.
In capital goods sector, BHEL surged 2.18 percent, WELCORP gained 1.91 percent and L&T rose 1.14 percent.
"It has been a slow yet steady move up for the markets. 6,000 levels remain immediate supports and targets of 6,400 on the Nifty are likely," independent analyst Sarvendra Srivastava told NDTV Profit.
The overall market breadth was negative with 1204 advanced against 1436 declines. The BSE's Midcap Index declined 0.04 percent to 7,162.56 and Smallcap Index advanced 0.10 percent to 7,377.37. CNX midcap Index gained 0.16 percent and CNX IT fell 0.28 percent.
Meanwhile, Asian markets were listless on Monday as sentiment was weighed down by the speculation that policy makers in Japan might disappoint by not announcing substantial stimulus measures in the meeting this week.
Investors concerned with commitment to achieve the underlying inflation of two percent may well be seen as over ambitious and risk undermining the central bank's credibility. Market participants sense that substantial policy measures will be required to support a higher inflation target.